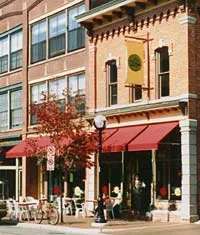 The owners of Café Zola in downtown Ann Arbor tell
MLive
that they turned away U.S. Immigration and Customs Enforcement agents who arrived Wednesday afternoon looking for an unnamed suspect.
Owner Alan Zakalik says that his wife, Hediye Batu, refused to allow two agents who entered the restaurant at 112 W. Washington St. to check the kitchen for the unspecified individual.
The agents – who were carrying guns and wearing uniforms with "POLICE" emblazoned on the back – then left the property, Zakalik says, adding that other diners didn't immediately notice them.
An ICE spokesman said in a statement sent by email to
MLive
that no arrests were made.
"Today's enforcement operations are a part of routine, daily targeted operations conducted by ICE in this region and around the country every day, targeting criminal aliens and other immigration violators," the spokesman wrote.
Several months ago ICE agents ate breakfast at Ann Arbor's Sava's,
then raided the kitchen
looking for a suspected undocumented immigrant. Several people were detained as part of that operation.