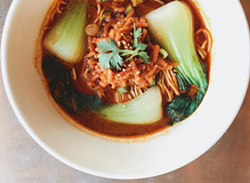 Los Angeles's Urban Ramen is planning a Midtown location,
Eater
reports.
The restaurant opened its first shop on Sunset Boulevard in 2014, and will launch its second location here sometime in October. Stay tuned for details.
The Kitchen Ramarj pop up returns on Aug. 26 in Pontiac with another helping of Lebanese/Liberian cuisine. Chef Amenah Marhaba's menu and five-course meal looks tempting, as always.
-Lentil soup (Family recipe lentil soup)
​
-Shrimp and rice noodle with crostini - (Crostini, sautéed shrimp, Liberian spices, mini rice noodles.)
​
-Roasted peanut butter-seasoned chicken wings - (Liberian-style chicken wings, spicy peanut butter sauce.)
​
-Liberian & Lebanese fusion mloukhiya (jute leaves) - (Mloukhiya, seasoned chicken, Liberian-made red palm oil, and jasmine rice.)
-Coffee cake - (
Family recipe)


The event will be held on Sat. Aug. 26 at 6 p.m. at the Menagerie at 154 N. Saginaw St. in Pontiac. Advance t
ickets are required. Call
248-648-1505 to reserve.