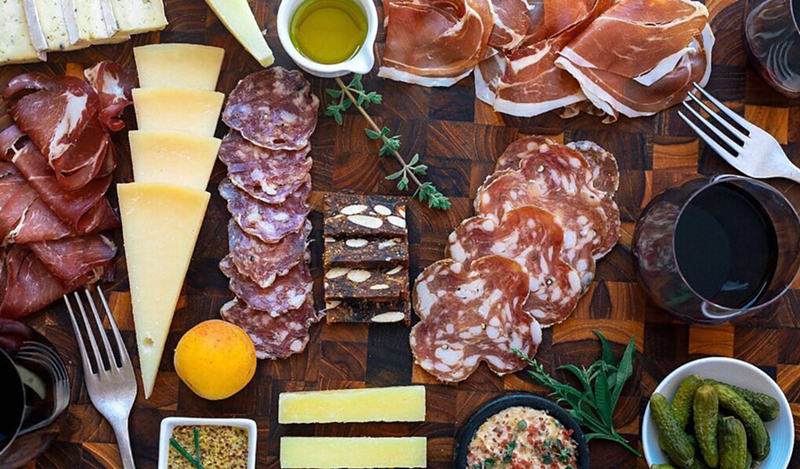 Brix Wine & Charcuterie Boutique opens today in a former bank building at Van Dyke and Kercheval in Detroit's West Village.
The project has been in the works for around 18 months, and the three-day soft opening party will include free wine tasting from 4 p.m. to 1 a.m. each day. Owner Mikiah Westbrooks tells
Metro Times
that she will offer a selection of 20 wines during the opening from Michigan, Austria, Italy, and France, including California's Joseph Carr. The tastings will take place inside of the former bank's vault.
On the charcuterie menu, diners will find domestic and imported meats and cheeses, like prosciutto and bresaola.
After the opening celebration, Birx will maintain a 4 p.m. to 1 a.m. schedule Thursday through Sunday until expanding its hours in the not-too-distant future.
The 1,100-square-foot building seats around 40 people, and its renovation was partly funded with a $32,000 Motor City Match grant. Westbrooks says she eventually wants to open a second location in Metro Airport, but for now she's focused on getting the West Village location off the ground.
"I love the location, I'm from that neighborhood and grew up over there, so it was important to come back do something where I was raised," she says.
Westbrooks thought about doing a wine bar in Detroit 15 years ago prior to she and her husband moving to New York, but it never happened. While in New York, her husband considered opening an ad agency, but Westbrooks felt there was something else that they could offer the world.
"My thought was 'Hey NYC doesn't need us. It already has everything.' So when we came home, this amazing resurgence started happening," she says.
They moved to Indian Village and Westbrooks started taking a wine course, during which time the couple found the building that they would eventually renovate.
"I thought 'Either I seize moment, or lose it,' so I ended up getting the space," Westbrooks says. "Wine for me, it's just the truth. Every time I look over life as an adult, all the best moments, the saddest, the most joyful – it all happened over a great glass of wine, and I wanted to bring that feeling into this place.
"Wine is something that I love that has a human element. It's constantly evolving everyday, and we work to be something better everyday, and that's what wine does, too," she says.
Brix, 7968 Kercheval Ave, Detroit, 646-509 -5992,
https://www.instagram.com/brixdetroit/