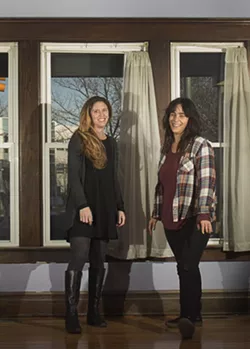 It's hard to find a bad location for a coffee shop in and around downtown Ann Arbor, but the super cute house in which the soon-to-open Electric Eye Coffee will operate on the edge of Kerrytown ranks among the best spots in town.
At the intersection of North Main and Depot Streets, Electric Eye will provide a much needed, easy in-and-out option for those of us visitors entering/exiting Ann Arbor from M-14. Owner Keelan Ferraiuolo says an app that allows customers to order drinks ahead of time is in the works, making the shop even more convenient, and all this comes with the downtown Ann Arbor retail holy grail - free parking.
Electric Eye, however, isn't just catering to autos. The location provides an option for foot traffic from the surrounding neighborhoods, trails, parks, dog parks, train station, etc, etc. As Ferraiuolo, an Ann Arbor native who used to live four doors down, described the location - "It's prime."
But the most exciting part is the concept. Ferraiuolo - who has over 20 years of experience as a barista and in the coffee trade - and partner Rachel Pell plan to rotate small roasters on a monthly basis instead of steadily sourcing from one or two producers, as is common with most of the town's coffee shops. The featured grounds will be used across the board for espresso, cold brew, drips, and pour overs, and bags will be available for retail sale.
Though Electric Eye won't repeat beans in its monthly rotations, the beans will sometimes be sourced from the same region, though they'll be handled by a different roaster. Lined up for the first month (a soft opening is expected in April or early May) are Ypsilanti's
Hyperion, Plymouth's
Espresso Elevado and Ann Arbor's
RoosRoast.


"We just want to be able to get the smaller roasters exposed. I feel like the area is kind of flooded with people doing their own
roasting
, and a lot of coffeehouses only have one specific roaster. There's so much coffee out there that's so good - we want to highlight the smaller people,"
Ferraiuolo says
.
Lighter fare and baked goods - including vegan and gluten free options - will be sourced from local bakers and lunch makers, and
Guernsey
will provide the dairy.
Electric Eye will also be different in that the first floor of the two story home won't be "like a library," as is often the case in coffeehouses. Instead, it'll feel more like a "lively, communal" place where people are engaged in conversations and enjoying more than their stats homework.
However, there will be a quiet space. Ferraiuolo plans call for the second floor to be converted into a work area for those needing a place to study as part of the project's phase two.
Check back for more details on the opening.