(Find a gallery of photos of Otus Supply's colorful dishes right here.)

It's difficult to adequately describe Otus Supply in a succinct manner. Some have called its design "industrial," but that doesn't account for the artful construction of round doors and more types of wallpaper than your grandmother's old Victorian house. Others describe it as "steampunk," but that conjures up too many images of gears and twee fellows with handlebar mustaches. So many adjectives are possible when talking about the looks of Otus Supply, and that's not even considering the food — and, damn, you should seriously consider the food.
But yes, the place is visually impressive. For starters, it's huge. Upon walking in, you're confronted with a series of rooms — first, a vestibule with a couple seats; then, a place to hang your coats with a gigantic work table in the middle, hard-topped and solid, looking more like it's a spot to do heavy manufacturing than anything else; finally, you arrive at an antique desk, staffed and ready to seat you. Turn to your left, and you enter the Parliament Room, a performance space with a long bar and a stellar view of the kitchen from a window-seat chef's table; turn to your right at the host stand, and you enter the main restaurant, a series of interconnected rooms with bar, low banquette tables, large tables, and "normal" seating in various arrangements.
The round doorways between rooms of the dining area evoke a Hobbit hole, and this cannot be accidental — a room toward the end of the maze boasts a bookshelf sculpture, holding individually carved blocks of wood designed to look like books (and maybe a real book or two just for confusion's sake.) Otus Supply seems to have been designed very specifically, very deliberately, very methodically, to a very particular aesthetic, and it works spectacularly well because of the commitment to it. If something is worth doing, it's worth doing all the way, and Otus Supply follows through to the fullest possible extent.
The restaurant might be best described with the phrase "fine dining hippies." Across multiple visits, the Grateful Dead, Jefferson Airplane, and Pink Floyd (among many others) were playing in the background, including a trip through what sounded like the entirety of Dark Side of the Moon — and the drinks are named to match, including the Scarlet Begonia, Locomotive Breath, and the cheeky Captain Beetheart. The clever names aren't here to cover for bad mixology, either; the drinks are eminently enjoyable and are easy to consume rapidly — and pack a punch under their balanced flavors. The beer selection is phenomenal, and the bar overall exploits Ferndale's position in the midst of a geography of high quality brewers and distillers. They even make ginger beer, a flavorful root beer, and other sodas in house.
The food is reminiscent of a California Cuisine/New American approach: There are pizzas, small plates, and a few larger items, and they're all centered around an ingredient-forward approach. This isn't to say that technique is left aside — chef Myles McVay commands a remarkably talented kitchen staff, who execute a complex menu without presenting overwrought plates.
As a result of this dedication to ingredients and technique, the menu can be somewhat inscrutable; it errs on the side of brevity and jargon rather than indulging in circuitous explanations of a dish's composition and construction. A few diners around us have needed guided tours through the menu, but the front of house staff has consistently been up to the challenge, from managers to servers to food runners.
The bone marrow is incredibly indulgent, the split and roasted bone smeared with a charred onion marmalade, and served with grilled sourdough (made, of course, in house) and a few blistered tomatoes. The tartare, if it's on the menu when you visit, is another must-order item: simple, clean, and served to us with radishes and olives and more of that phenomenal sourdough. (Order a plate of bread and butter, and eat it as a standalone course. Seriously.) We cannot get enough raw meat in our lives, and Otus Supply does a damn good job of satisfying our cravings. Prefer raw seafood? Enjoy "Oysters on the Whim w/Stuff," because when you trust a chef to give you quality, you get a superlative experience. Who needs boring old cocktail sauce and horseradish, anyhow?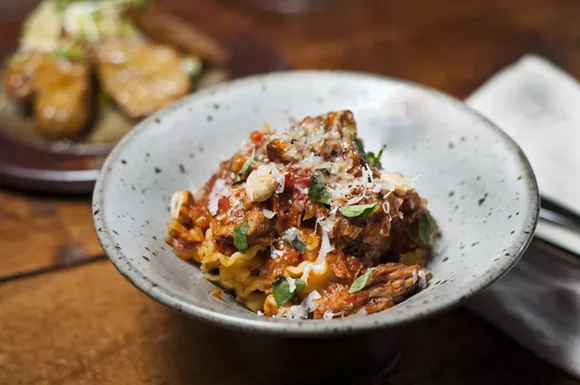 (Find a gallery of photos of Otus Supply's colorful dishes right here.)

Rigatoni alla Norcina, served in what may well be a hand-thrown bowl, is classical pasta composition at its finest — a little sausage, braised wild boar, and pecorino cheese are nothing so gallant and grand as the bone marrow plate, but to skip the flavors in this dish based on its humble menu listing and appearance would be a grievous error.
The Mafalde's perfectly salty braised pork sugo in a jumble of pasta, veggies, hazelnut, and Sarvecchio is also worth a look — or try the pizza with strings of pickled red cabbage, tarragon, gorgonzola, and honey. Though the toppings seem all over the map, they tie together and balance out in each bite.
The kitchen at Otus Supply is the sort that chefs dream about. At the helm stands McVay, orchestrating the flow of food. Behind the line, there's a prep area full of cooks even during a busy Wednesday dinner, because food like this takes a lot of people and a lot of time. The stone deck oven burns in one corner, churning out delicious pizzas during service and that irresistible sourdough bread as well. The cooks dance around, and the food manifests in the pass, and the magic continues.
Fine dining in Detroit doesn't have to look like it does in New York, Chicago, or Los Angeles. We're more blue-collar than any of those big cities, and we're also a pretty small town when it comes down to it. We're not exactly the sort of place that loves a never-ending tasting menu, preferring instead a big menu with a little something for everyone. At Otus Supply, you see what a kitchen full of dedicated and talented staff can do, even (or perhaps especially) in a restaurant where there's live music every night, ranging from Grateful Dead and Johnny Cash cover bands, to dubstep brass, to local groups just making their name.
Otus Supply has already cemented its place among the best restaurants the Detroit area has to offer. Make a point of visiting — maybe we'll see you there.