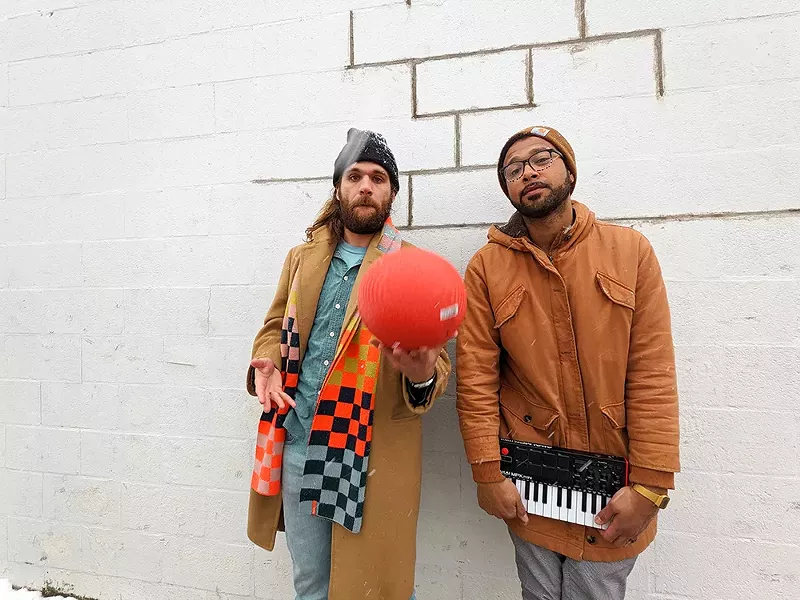 Jack Droze & Lilahk have been performing together long before they had a figurative platform, or a literal stage. Down alleyways or in liquor store parking lots, drumming on upturned buckets beside Dumpsters or eventually freestyle rapping at any given social gathering, each seemed particularly energized by the other's presence and creative company. And along the way, as the years went by, even as others in their friends group drifted or grew apart, Droze and Lilahk, aka Khalil Heron, and only grew closer, bonding together like brothers; bonding over music, most of all.
Two months ago, they released their debut album, I'm Try, a dynamic set of 15 candid and contemplative hip-hop tracks, blending Heron's beats and production with Droze's emotive lyricism. In a way, this album's been a long time coming, the culmination of nearly a decade-long friendship.
"Honestly, it was hip-hop," says Heron, who also contributes his own bars throughout their new album. "Hip-hop is what connected us!" But it was also their sense of humor — they both tapped into a similar wavelength of sardonicism and easygoing goofiness, shifting from the roguish nature of bucket drumming into indulging in improvised comedy bits together. (They're also self-ascribed grammar-nerds who are well-aware that their album's title prankishly defies syntax.) "But we're both hip-hop fanatics," Heron continues. "We could talk about it endlessly together. And since I was this half-decent beat-boxer who could make a workable beat with whatever was around me, we eventually started going around at parties just seeing who wanted to rap with us."
Droze recalls their penchant for coming up with freestyle raps together, even if they weren't on a stage. "I distinctly remember where Khalil and I would be hyping each other up in the backyards of whatever house show we were at," Droze says. In this way, Droze says he basically "performed at every single house party that we went to together," whether that was rapping in random kitchens or basements, or out on the sidewalks of Woodbridge. "It's the cypher," Droze exclaims, recalling how this strengthened his own capacity for rapping. "That will forge you!"
What partly helped forge Heron, individually as an artist and as a producer was, inevitably, the pandemic. He debuted as Lilahk during in the early summer of 2020, releasing the visceral lo-fi hip-hop track "Get Away," which provided an effective conduit for a certain pent-up anger, but also allowed him to flex his talents. "The leap I've made from that track to this new album with Jack," Heron says, "is the distinction, now, between anger and stagnation; it's a productive anger that's moving toward something better. We're not locked up anymore and I'm feeling a lot less frozen-in-time than I once did, feeling less like wanting to get away and wanting more to be proactive and engage with the world around me – the world around us!"
Droze recalls instantly commiserating with that anger "coming through" Heron's music when he emerged as Lilahk, and admitted that the songs on I'm Try continue to articulate a considerable amount of that yearning for catharsis. Droze praises Heron's ever-sharpening talents for beat production, noting that it was his instrumentals that provided the spark for nearly every track on the album. The collaboration began in the winter of 2021, initially from a (safe) distance, swapping tracks via email and steadily building from there. "People listen to this project and say it's cohesive," Droze says, "but that's because of our relationship. We've been friends for such a long time, we know how to work with each other. And this was a great way to stay tight with each other during quarantine."
"Lots of phone calls and emails," Heron adds. "I'd send [Droze] a beat and he would write and add lyrics and then we would just talk about it — we would talk about [a single track] for weeks before getting together, physically, to record it."
"Some of these songs, from the demo stage onward, span huge amounts of time," Droze says. "So you have all this thought being poured into each one, but then they wound up being really well executed by the time we recorded together."
As Heron found himself reaching another level, creatively, on his own as a beatmaker in 2020, Droze was able to tap back into something vital inside of himself when their collaboration was eventually initialized in early 2021. "Because I've been rapping since I was 12," Droze says, "it's just that I haven't put anything together to put out since 2016! And that's because I was going through life changes, just handling personal things and getting my priorities in order." Droze had been working on music and collaborating with fellow artists in the scene regularly in the mid-2010s before taking a prolonged hiatus of sorts. "I was keeping my distance way before the six-feet-thing," Droze quips. "But, then, in that way, this album has been an opportunity for both of us to process things and then to come together..."
"...come together and then merge," Heron adds. "Making this album has been a wind beneath both our wings. Our process was to start with however you feel right now, right in this moment — make whatever it is authentic to the present. I'd send my authentic present moment to Jack to make sure that his authentic present was compatible with what I had, and then we would create this little time capsule together." This tellingly resulted in tracks that literally examine "reality," but also cultural inheritance, coming of age, class structure, parenthood, and so much more. The first lyric of the first track is, fittingly, "this is happening!"
"Both of our lives were hectic over these last two years," Heron says, "with a lot of growth and loss." They both agreed that the narrative style of the lyrics was purposefully aspiring to address the wide range of emotional upheaval inherent to the human experience; because they wanted to make something that was bigger than just another rap record. "And now everyone's been gassing us up since [the album] came out," Heron says, adding, "which ... allegedly, they say we deserve..."
"...but we would do another album even if we didn't get those props," Droze says, and, given their humble history down those alleyways or in those backyards, it's more than believable. It's believable given their friendship, alone.
"It seems a lot of what our listeners have caught on to," Heron says, "is just our chemistry, our friendship, our story. You can hear it in the ways this album came together even if it's not explicitly in the lyrics."
Droze clarifies that another reason he stepped away was "that I couldn't play the game the way other people could," he says. "I couldn't politic the right way in the music scene." But now that he's back in the mix, with Heron specifically, he admits that it does "feel like a resurgence."
"I just knew that this album was the album," he adds.
The album that they made together fits that cliche-albeit-accurate parlance of a record you can throw on whenever. It has that polyaura je ne sais quoi, where the hooks, the groove, the vibe are all so enticing yet also so subtle, where the lyrics have that relatable ring to them, like these are thoughts that you, yourself, have been ceaselessly kicking around in your head, too. But along with the subtle, the lo-fi, the low-key, there is a simmering urgency, a certain kind of anger, and above all, a thoughtfulness.
You're listening to two longtime friends find the perfect eureka moments, resolved to continue to try — to try to figure out what comes next, what to do next.
From the 2023 new Detroit music issue.
Coming soon: Metro Times Daily newsletter. We'll send you a handful of interesting Detroit stories every morning. Subscribe now to not miss a thing.

Follow us: Google News | NewsBreak | Reddit | Instagram | Facebook | Twitter