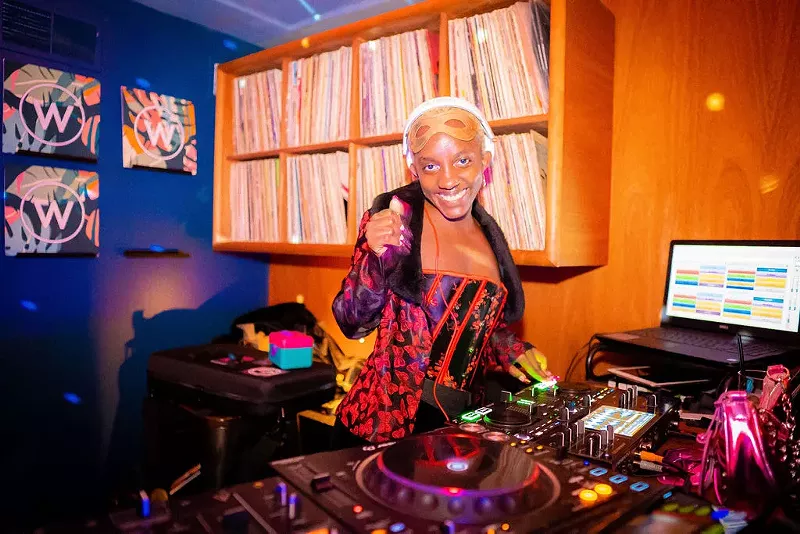 After recounting fragments of her DJ origin story while sitting on a bar stool inside downtown Detroit's Paramita Sound, 29-year-old Nyambura Njee unspools a white receipt more than three feet long. The scroll lists all the clothing treasures she found at local thrift shops that day. Her eye-catching fashion taste is in demand as she helps others aspire to create an aesthetic fantasy which may mirror the one she's built all on her own.
In the hum-drum daylight hours, Njee is a personal trainer, stylist, and sometimes moonlights as a model, having appeared in magazines and local art projects. Under glittery nightclub lights, she transforms into a DJ named Problematic Black Hottie, Detroit's empress of booty-bouncing, funky, and tropical dance beats hailing from the African diaspora. Her music is equally influenced by female rappers like Megan Thee Stallion, while her fashion takes cues from the Y2K princesses of yesteryear, as she subsisted on a media diet of TV shows like That's So Raven and Lizzie McGuire and bopped along to R&B showstoppers 702, SWV, and Destiny's Child, to name a few, all while growing up on two continents.
The renaissance woman is fully in her renaissance period. Over the last five years, she completed a DJ residency at Paramita Sound, which provides a platform for the city's veteran DJs and the next generation of record-spinning talent, created the popular dance party Hotties World at Spot Lite, and DJed at hip haunts like the Big Pink and the Mo Pop Music Festival. One of the crown jewels of her still-blossoming career was opening for the scintillating and raunchy Chicago rapper CupcakKe at the Crofoot in Pontiac. Problematic Black Hottie is unapologetically feminine and Black and her ascension into the city's nightlife sphere happened despite some haters and skeptics.
Njee's DJ nights were created by a hottie for hotties. But they are more than a showcase for her pastel-tinged soft power and the divine feminine. Njee thinks of herself as an archivist of a global sound, and women artists in particular. In a field still dominated by male DJs, she hopes her shows inspire babes twerking on the dance floor to embrace their inner bad bitch while also getting a sonic history lesson as they sweat and vibe inside the club. Otherwise the music that isn't getting played, Njee says, could die in the public's imagination.
"DJs are really responsible for shaping a lot of people's, like, music preferences and tastes, and therefore, in some ways, shaping their perspectives about the world in multiple ways because music teaches us about a lot of things. It's a tool of socialization," Njee says. "And so if men are the only ones getting to choose this music that is being played, that's not fair."
Njee, a daughter of Kenyan immigrants and two cultures, was born into a creative family. Her mother was an artist, and her father was a famous DJ in his home country, as well as a painter, sculptor, and jewelry maker. "He was an artistic jack of all trades," she says. Her parents also owned a hotel with a club in Kenya. Late at night, Njee remembers sneaking out of her bedroom as a grade schooler and going into the club, immersing herself in dancehall, afrobeat, and reggae jams. "Dang, this is good," Njee remembers thinking of those intoxicating rhythms. She'd split her time between Africa and America growing up, but it was that taste of the nightlife as a kid which helped cultivate her musical taste. Eventually, Njee and her family moved to Detroit when she was 15, and she'd attend Henry Ford Academy.
Fast forward to post-secondary life, Njee viewed herself more as an academic hottie rather than the bubble-gum-infused tastemaker she'd one day become. She studied sociology and Africology during college and planned on becoming a professor. Njee says she then got accepted into a graduate program at New York University in her mid-20s.
She soon realized she wasn't feeling the scholarly path, so she told herself to take a break from hitting the books. "You know what? I want to explore my creativity," Njee recalls. "And so yeah, I was like, I'm not ready to go to grad school. I just want to do my own thing for now." The degree attainment hustle wasn't all for naught and later proved an influential force, specifically in the way she curates often funky and soulful sounds. "The degree that I chose, and what I [studied] is like a very big part of like, how I think about the world and how I think about problems and see problems," she says. "And so I definitely did use a sociological and anthropological lens when it came to DJing."
Around the same time, her attention-grabbing moniker, Problematic Black Hottie, was born out of millennial pop culture internet discourse. One day, she was perusing Instagram and found an Instagram post about Mean Girls, and a comment referring to "unfriendly Black hotties" caught Njee's eye. Another commenter mentioned the word "problematic," so Njee thought to splice the words together and use the name Problematic Black Hottie for her Instagram account. She later adopted the name for her DJ persona, which also serves as her official logo, the name emblazoned on her merchandise, including stickers and Barbie-pink tote bags. The name, in its boldness, inspires curiosity and adoration. "People love the name," Njee says. "It grabs people's attention."
Njee, a short and petite Black woman with close-cropped bleach blonde hair, somehow manages to always look like an alluring fashion doll. While we're sitting together at Paramita's bar sipping on glasses of water on a Tuesday afternoon, she's wearing a casual look which still pays homage to two of her music idols: a black T-shirt with a monochromatic portrait of the sultry and mysterious songstress Sade and printed patterned pants with faces of reggae legend Bob Marley — a rare find, Njee tells me.
In the heat of performances, she's worn zebra-print tops paired with hot-pink shades as well as a cerulean two-piece with a cloud-white overcoat with fuzzy trim — the kinds of 'fits the fashionable baddies among us would die for. There is full-throttled intention behind her style, Njee says, and fashion plays a pivotal role in the atmosphere she's creating while DJing.
"It all goes together. For me, it's all an expression of my world. So just finding more ways to have other people experience what's happening on the inside of me, you know, and one side of my mind," she says. "And so for me, it's all related, like my, my physical, my visual aesthetic, my music."
Her path toward DJ stardom was far from pristine. Early on, Njee says, some local parties wouldn't book her to perform. "So I've been inspired by a lot of the people that have tried to put roadblocks in my way," she says. "And so that's actually given me a lot of fuel. While it may be frustrating right there in that moment, you can kind of change your perspective on it, like, 'OK, well, if they won't book me then let me start my own party.'" So Njee ended up starting Hottie's World, her ongoing party, at local venue Spot Lite, and so far, has been successful.
Venturing on her own and breaking through the local DJ scene meant doing so on her own terms. Njee says she's had to overcome some haters who she says disrespected and treated her poorly because she is a woman DJ. The COVID-19 pandemic ruined some of Njee's momentum and she didn't play shows for two years. But while on lockdown, she took the time to hone her craft, learning to smooth out transitions between songs. The key to make it as a DJ, which Njee admits is somewhat of a cliche, is being your authentic self, no matter where you are. Because of that steadfast commitment to keeping it real, she's cultivated key professional relationships and slowly built out the PBH empire.
Andrey Douthard, the owner of Paramita Sound, is one of Njee's biggest champions. It was inside this space where Njee secured her first DJ residency and played a party series called 94 to East Africa, alongside local legend DJ Nick Speed. That harmonic collision of old-school and new-school talents is exactly the vibe Paramita embraces.
"I am always a proponent for looking for new and honest things," says Douthard, who wants the space to support new voices, perspectives, and sounds. "PBH has this like undeniable energy, right? This kind of energy that is infectious. It's really fun. And there's a lot of joy in that."
That sonic joy is a product of diligence and discipline. Njee says she wants her mixes to feel fresh, always on the hunt for striking music. She listens to more than 200 new songs each month, which she'll add to her ongoing sound archives, after tolerating hundreds of other not-so-stellar tunes.
Njee is also battle-tested. She knows Detroit is a DJ city, and crowds won't suffer foolishness or mediocrity, so she makes sure her DJing is on point. She overprepares every time she performs. She's intentional about cultivating safe places to party for women, people of color, and LGBTQ+ folks. And once she's on stage, DJing, in her eyes, is a dialogue, not a monologue, with her often multicultural crowd. First and foremost, you gotta read the room.
"Feeling, watching the crowd responding to them, meeting them where they're at. If the crowd is chillin', and that's where they're at," she says. "So you got to kind of pay attention to those things."
About five years into DJing, Njee is still dreaming big. The 94 to East Africa party will make its glorious return in the spring. Her PBH merch is sold in hip, trendy, and queer-friendly shops like Not Sorry Goods in Ferndale. She has gigs lined up when hot girl summer finally arrives. One day, she hopes to be a booked-and-blessed international DJ. A few renowned parties in Paris and Scotland are on her dream list. Life is pretty good.
"I'm actually feeling better than I've had in the past. I've had a lot of things that have confirmed my faith in myself and in my vision that I have for what I'm trying to create," Njee says. "I'm feeling pretty good, pretty secure. Just trying to stay focused and continuing to maintain integrity over the vision that I have, and just making sure that I'm being true to myself." Right now, it's Problematic Black Hottie's world, and we're all just fortunate enough to be living in it. Baddies, unite.
From the 2023 new Detroit music issue.
Coming soon: Metro Times Daily newsletter. We'll send you a handful of interesting Detroit stories every morning. Subscribe now to not miss a thing.

Follow us: Google News | NewsBreak | Reddit | Instagram | Facebook | Twitter