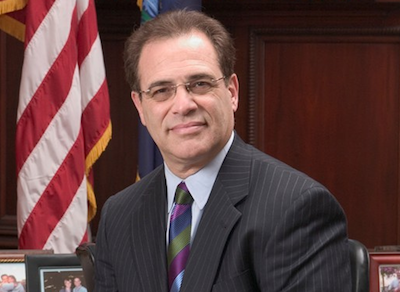 A news release came our way that made us giggle: Former Wayne County Executive Robert "Bob" Ficano will host an AM radio show starting this Saturday, on "The Superstation" 910 AM.
After a 12-year reign that increasingly involved charges of corruption, sweetheart contracts for retired county employees, golden-parachute severance packages, a failed multimillion-dollar jail project, a swarm of federal investigators, and a host of other problems, it seemed Wayne County voters had taken all they could bear. Two years ago,
our readers said they would rather have anybody else as Wayne County Executive
. (They got just that, in the form of career politician Warren Evans.)
Now western Wayne County resident Ficano returns as some sort of radio host? On "Detroit's only radio station for African Americans"? Is this some sort of cruel hoax?
Compromised, controversial, and clunky, Ficano seems an odd pick as a host. A politician who, if we are to believe his own protests under investigation, isn't just out of touch in general, but was out of touch with his own administration. See, given the way Ficano's career became checkered with scandal, how can you expect your on-air host to weigh provocative ideas or grill guests? Remember how his
response to critics as he exited office
was to shrug and say he accepted the responsibility — all while not seeming to accept the blame?
Furthermore, the name of the show is awful. "Live and Unplugged" may work for acoustic sets by hard rock bands, but for a talk show to work, shouldn't everything be plugged in properly? (Perhaps "unplugged" is a reference to the way voters pulled the plug on Bob two years ago, in which case it fits.)
Then there's the way
Ficano doesn't exactly have a voice for radio
. High-pitched and nasal, his is the sort of grating accent that makes Richard Simmons sound like a golden-throated god.
Still, it's easier to take seriously than his last gig: A year ago, the author of the "fail jail" was hired by Wayne County Community College to teach a classes in correctional institution management.
Now that was funny!
Ficano "Live and Unplugged" will air live each week from 1 to 2 p.m. on 910 AM.