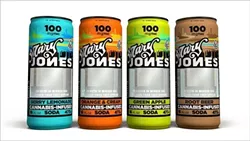 Nostalgic craft soft drink brand Jones Soda has added a special ingredient to its newest line of drinks: THC.
The brand has a line of cannabis-infused beverages dubbed "Mary Jones." You know, in case you've ever thought, "Boy I wish I could have some weed in my pop."
Mary Jones will be available at Michigan dispensaries this summer with drinks that have either 10mg or 100mg of THC, along with a line of infused syrups.
The 10mg drinks are sold in single 12 oz. bottles or four-packs while the whopping 100 mg drinks come in 16 oz. tall boy cans that are resealable and "child-resistant" so you can drink it over a few sittings. The brand's THC-infused syrups also contain 100mg of THC and can be used as a cocktail mixer, drizzled over desserts, or used in other recipes.
Supposedly, the drinks "taste exactly like the mainline Jones craft sodas" in flavors like Root Beer, Berry Lemonade, Green Apple, and Orange & Cream.
Mary Jones was first launched in California last June and will soon be sold in Nevada and Washington in addition to Michigan. Jones Soda is planning to eventually roll out Mary Jones nationally in all recreational cannabis markets.
"As the first branded soda company to expand into the cannabis space, we have unique advantages that include 26 years of brand recognition, deep flavor science expertise, and an edgy brand personality that's a perfect fit for the canna culture," Jones Soda Company president and CEO Mark Murray said in a press release. "These attributes have already helped turn Mary Jones into California's top infused carbonated beverage and the state's fastest-growing cannabis brand, and we fully expect similar success in Washington, Michigan, Nevada, and every other market we enter."
Maxxx Labs will be handling the manufacturing and distribution of Mary Jones in Michigan.
Exact locations where you can find Mary Jones will be posted on gomaryjones.com closer to its Michigan release.
Jones Soda was founded in 1995 in Canada.
Coming soon: Metro Times Daily newsletter. We'll send you a handful of interesting Detroit stories every morning. Subscribe now to not miss a thing.

Follow us: Google News | NewsBreak | Reddit | Instagram | Facebook | Twitter