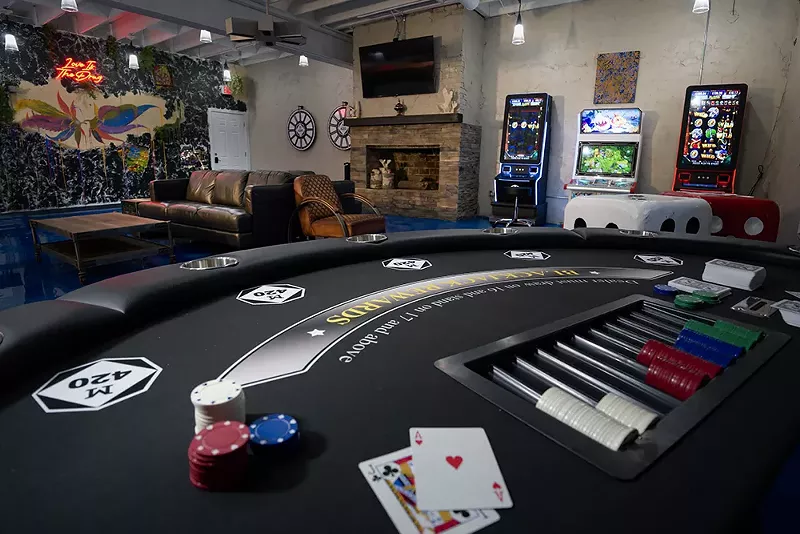 One of the first cannabis dispensaries to open in Detroit has now unveiled what it believes could be another first. The Reef on Eight Mile Road has pivoted to include what it calls a "cannabis casino," where customers can win prizes by playing games like blackjack, craps, roulette, slot machines, and more.
"As far as I know, nobody in the country has done it," spokesman Tim Campbell tells Metro Times.
Campbell says the cannabis casino came from a partnership with Jason Kouza of Dort Hwy Dispo, a Flint-area dispensary that came up with the idea and started developing the games used at The Reef.
The Reef decided to make the pivot while adult-use cannabis licenses got held up in Detroit in recent years. Though Detroit was one of the first municipalities in Michigan to allow medical cannabis dispensaries following the passing of Proposal 1 in 2008, it was one of the last to allow recreational dispensaries, which Michigan voters approved in 2018. That's because a city ordinance was designed to help give a leg up in the new legal industry to Black Detroiters, who were disproportionately harmed by the war on drugs. But the Detroit social equity plan for cannabis backfired, held up for years by lawsuits.
"I've said this a lot of times, Detroit really built the bus for recreational — and then it missed the bus," Campbell says. "There's so many other cities that opened up for years before they could do it."
A modified version of the city ordinance was passed in 2022, and the first adult-use dispensaries in Detroit opened earlier this year. The Reef finally reopened for adult-use sales earlier this month.
"We shut down the shop, figured it was as good a time as any to give the place a facelift," Campbell says.
Campbell says the cannabis casino concept didn't require any additional legal considerations because customers don't gamble real money. The prizes include cannabis products or store credit. However, after this story was published, a spokesman for the state's Cannabis Regulatory Agency said that it was being investigated.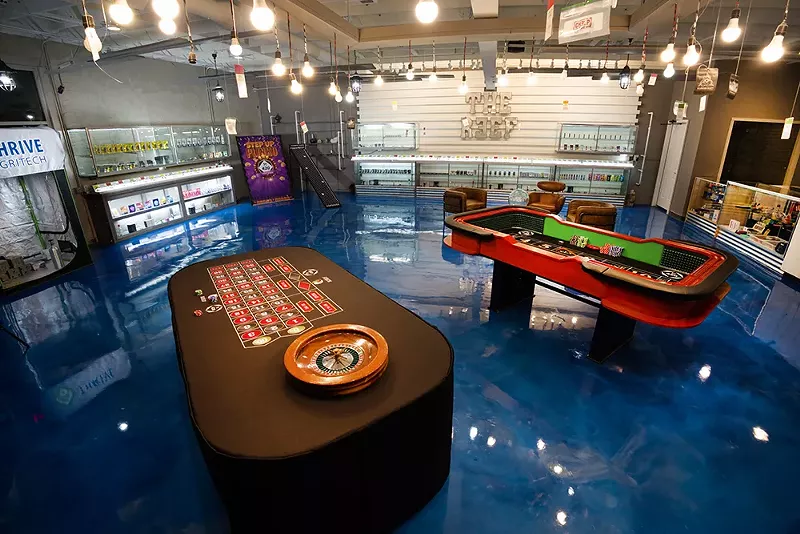 "We structured how many reward points you get at a ratio of how much you purchase," Campbell says. "For instance, there's days that you come in and you spend $25, you get either a ball to go down the Plinko machine, or a pull on the roulette wheel, [or] a roll at the craps table. So you win prizes, and you can win pretty much no matter what. And if you spend $50, you get two of these chances; for $75, you get three; and so on and so forth. Or you can let your points accrue and and sit there and get hot on a game of blackjack, or get hot on a game of craps."
He adds, "You can sit there for a half hour to use your points all at one time."
The company also recently released its own take on the McDonald's "Monopoly" game promotion where customers can win prizes like $100,000 cash, free pot for life, a Caribbean trip for two, or a kit to grow your own cannabis plants at home.
That's in addition to other promotions like pull tabs and scratch-off cards.
"There's kind of something for everybody," Campbell says. "It's a little bit of that 'dope and dopamine' effect."
Campbell says another factor that led to The Reef's cannabis casino idea was the plummeting price of cannabis in Michigan. "We have the cheapest prices in Michigan," he says, adding, "We've got some real good pricing, but you know, a lot of people have good pricing. So you got to set yourself apart from and have the experience above and beyond just for coming in and purchasing a product. We want to make it a little bit more of a fun and enjoyable experience from top to bottom."
Now that adult-use is allowed in Detroit, Campbell says The Reef can continue its plans for expansion. He says the company will bring the cannabis casino concept to its Muskegon Heights location as well, and the company also plans to soon open additional dispensaries in Detroit and Hamtramck.
"We had a couple other shops that were going to open that we just couldn't open," Campbell says. "It just didn't make sense to open them until the recreational came online."
The company says it's planning to hire between 20 to 30 new employees in the coming months.
This story was updated with additional information regarding the Cannabis Regulatory Agency.
Coming soon: Metro Times Daily newsletter. We'll send you a handful of interesting Detroit stories every morning. Subscribe now to not miss a thing.

Follow us: Google News | NewsBreak | Reddit | Instagram | Facebook | Twitter