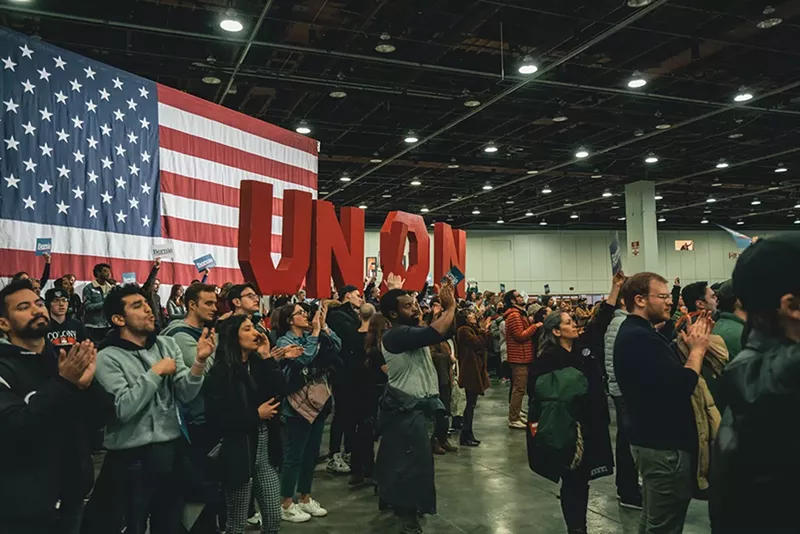 Union membership in the U.S. grew by 273,000 in 2022, including by nearly 50,000 in Michigan, according to the annual report released by the U.S. Bureau of Labor Statistics on Thursday.
The Michigan AFL-CIO applauded the news, saying the movement was led by workers of color against decades of anti-union policy in the U.S. and Michigan.
"For nearly 40 years, politicians in Lansing have unjustly inserted themselves into our collective bargaining agreements, tipping the scales in favor of corporations and millionaires," Michigan AFL-CIO president Ron Bieber said in a statement. "But yesterday's Bureau of Labor Statistics annual report proves the resilience and power of Michigan's labor movement."
The Michigan AFL-CIO is Michigan's largest labor organization, representing more than 1 million union members and their families in 40 different labor organizations.
According to a 2022 Gallup poll, 71% of Americans support unions, its highest point since 1965. But union membership also hit an all-time low in 2022, with 10.1% of workers unionized in 2022 — down from a high of 20.1% in 1983, the first year the Bureau of Labor Statistics reported comparable figures.
According to Axios, while the workforce added 273,000 union jobs in 2022, the figure was outpaced by the total number of jobs added that year, 5.3 million.
In recent years, especially in the aftermath of the burdens placed on so-called "essential" workers amid the COVID-19 pandemic, there has been a wave of high-profile union efforts, including among workers at corporate titans like Amazon and Starbucks.
But in states like Michigan, union membership has been weakened by laws dubbed the "Right to Work," a package signed by former Republican governor Rick Snyder during a lame-duck session 10 years ago. The Michigan laws prohibit workers from having to pay union dues, a move was met with protests at the time.
"The growth in union membership demonstrates the urgent need for our pro-worker legislative majority to act upon the will of the people that elected them and restore their union freedoms and collective bargaining rights," Bieber added.
Now that Democrats hold a trifecta of power in Michigan for the first time in 40 years, union supporters are calling on lawmakers to repeal "Right to Work." Democrats have signaled their intention to do so, and legislation to repeal the laws has already been introduced in both the state House and Senate.
"These statistics highlight the urgent need to repeal Michigan's anti-union 'right-to-work' law," said legislation sponsor state Senator Darrin Camilleri, a Democrat who represents several metro Detroit communities. "Our new legislative leadership has the opportunity to take long-overdue action to remove existing restrictions and ensure workers are able to more freely negotiate the pay, benefits, and protections they deserve."
According to the BLS, median weekly compensation for union members was $1,216 in 2022, compared with $1,029 for nonunion workers.
Coming soon: Metro Times Daily newsletter. We'll send you a handful of interesting Detroit stories every morning. Subscribe now to not miss a thing.

Follow us: Google News | NewsBreak | Reddit | Instagram | Facebook | Twitter