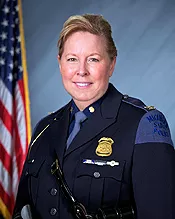 Governor Rick Snyder says he is docking Michigan State Police Director Kriste Etue five days' pay in response to a controversial Facebook post in which she called NFL national anthem protesters "degenerates" and "millionaire ingrates who hate America."
Previously,
groups like the Detroit Coalition Against Police Brutality called for Etue's resignation
. However, Snyder said Etue will remain on the job, and will continue to work through the period.
"I have full faith in Colonel Etue's leadership as the commander of the Michigan State Police, which I believe to be the best law enforcement body in the nation," Snyder said in a statement. "The colonel has served honorably as an enlisted trooper for 30 years, and I hope we can come together as Michiganders to move forward and find common ground, rather than rehash past mistakes."
On Sunday, Sept. 24, Etue shared a text-based meme on her page that read:
"Dear NFL: We will not support millionaire ingrates who hate America and disrespect our Armed Forces and Veterans. Who wins a football game has ZERO impact on our lives. Who fights for and defends our nation has every impact on our lives. We stand with the Heroes, not a bunch of rich, entitled, arrogant, ungrateful, anti-American, degenerates. Signed, We the people."
Etue has since deleted the post, and offered a lukewarm apology that didn't disown the controversial statements, saying, "It was a mistake to share this message on Facebook and I sincerely apologize to anyone who was offended."
However, as critics point out, apologizing for offending people isn't the same as apologizing for making the statement — and does nothing to address what could be a dangerous bias.
"We cannot let our leaders, especially in law enforcement, let their biases drive their decision making," Detroit Coalition Against Police Brutality president Sandra Hines
said
.