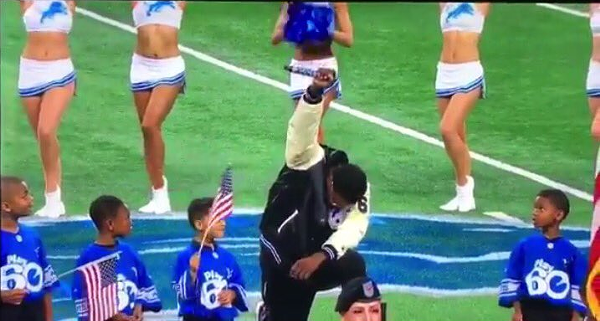 The Detroit Coalition Against Police Brutality is calling for the resignation of the Michigan State Police director who took to Facebook this week to denigrate professional athletes who kneel during the national anthem.
On Sunday, Col. Kriste Kibbey Etue called NFL players who participate in the gesture, which began as a protest of police brutality against blacks, "millionaire ingrates who hate America and disrespect our armed forces and veterans" and "a bunch of rich, entitled, arrogant, ungrateful, anti-American degenerates."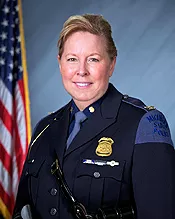 The post has since been deleted and Etue has apologized.
"It was a mistake to share this message on Facebook and I sincerely apologize to anyone who was offended," Etue said in a Tuesday night Facebook post on the Michigan State Police page. "I will continue my focus on the unity at the Michigan State Police and in communities across Michigan."
But for the Detroit Coalition Against Police Brutality, an apology is not enough. Coalition president Sandra Hines describes Etue's statement as revealing a clear and dangerous bias.
"We cannot let our leaders, especially in law enforcement, let their biases drive their decision making," said Hines. "That kind of talk and those sentiments only lead to an escalation of problems when law enforcement officers encounter the public."
Col. Etue's friends-only Facebook post came on Sunday, when many many NFL players, coaches, and owners kneeled or locked arms in a show of solidarity against the president. In Detroit,
singer Rico Lavelle kneeled
while singing the national anthem. Lions owner Martha Ford
also issued a statement
supporting for the players' right to protest.
✖
Earlier in the weekend, Donald Trump had taken aim at athletes who participate in the demonstration, suggesting that NFL owners should respond by saying, "Get that son of a bitch off the field right now, he's fired. He's fired!"
Etue took aim at athletes who protest police brutality against black people as MSP faces continued criticism for a trooper's killing of a black 15-year-old in Detroit last month. The boy, who was riding an ATV, was killed when a trooper used a taser on him during a pursuit. It's against MSP policy to deploy a taser from a moving vehicle. It later emerged that the trooper had
twice been accused of using excessive force
in lawsuits that were dismissed in 2014 and 2016.