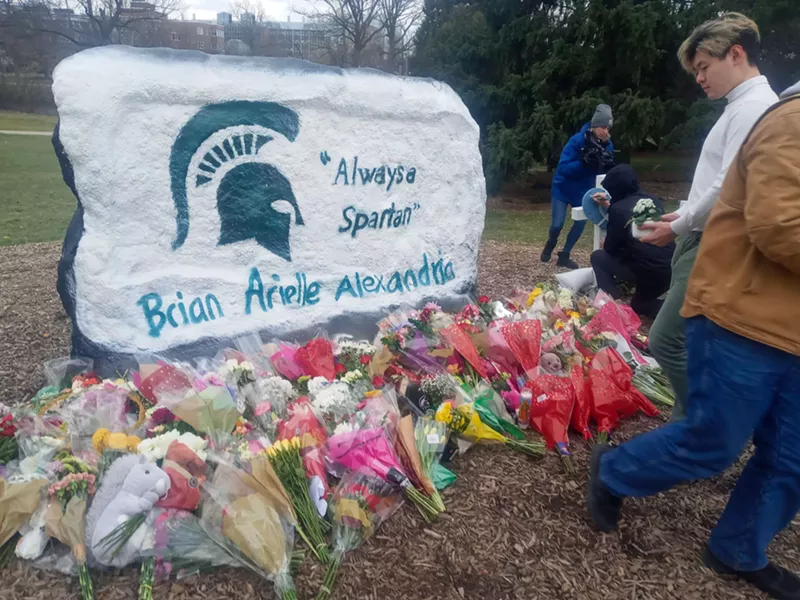 Following the mass shooting at Michigan State University, Michigan Attorney General Dana Nessel warned about scammers selling unlicensed merchandise and falsely claiming the proceeds will benefit a fund established for those most impacted by the massacre.
"As the mother of two current Spartans, I am heartened by the outpouring of support that Michiganders have shown in the wake of this tragedy," Nessel said. "Unfortunately, bad actors often take advantage of times such as these, when individuals are most vulnerable, to prey on our generosity."
Scammers are profiting by selling unauthorized merchandise and claiming it benefits
the Spartan Strong Fund
.
Earlier this week, MSU also warned that "unscrupulous businesses and individuals have engaged in selling unlicensed apparel and other merchandise. The university cannot verify that proceeds from the sales of these unlicensed products will be donated to the Spartan Strong Fund."
Here are the only officially licensed and approved merchandise from vendors supporting the Spartan Strong Fund:
• Spartan Spirit Shop
• Nudge Printing
• Colosseum
• Underground Printing
• Blue 84
• CDI Corp.
• A. Dean Watkins
• 4Imprint
• Sewing Concepts
•Zephyr
• Gametime Sidekicks
• Underground Printing – Spartan Strong
Before making a donation, Nessel is also encouraging residents to be careful about which crowdfunding campaigns are legitimate. Her office created
"How to Spot A Fake Go Fund Me Alert"
and
"Crowdfunding for Donations"
to educate residents on the best practices when using social-giving platforms.
"I urge residents to always do their research before donating to ensure that their contributions will be put to good use," Nessel said.
Nessel and MSU are asking consumers to report the sale of unlicensed university merchandise by emailing the
University Licensing Programs
or calling 517-355-3434.
Coming soon: Metro Times Daily newsletter. We'll send you a handful of interesting Detroit stories every morning. Subscribe now to not miss a thing.

Follow us: Google News | NewsBreak | Reddit | Instagram | Facebook | Twitter