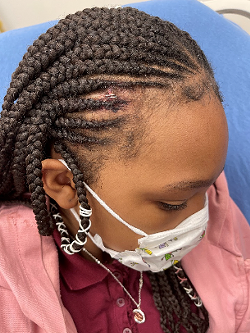 Correction: This story incorrectly said the assault happened at Hope of Detroit Academy. It occurred at Hope Academy in Detroit.
The mother of an 11-year-old girl is suing a Detroit charter school after the gym teacher struck her daughter in the head with a metal hockey stick and allegedly left her to bleed profusely without supervision or medical attention.
The lawsuit filed in Wayne County Circuit Court says the girl's mother, Christal Stanley, came to Detroit Academy in May 2022 and found her daughter alone in a hallway "covered in her own blood."
The gym teacher, Jacqueline Sidney Brown, was convicted of 4th degree child abuse and sentenced Thursday to probation and anger management classes.
The suit says the child was "seriously and severely injured," and she suffers from dizziness, blurred vision, lack of appetite, memory loss, and emotional stress.
Stanley took her daughter to the hospital, where she received staples for her open head wound.
"No parent should have to fear sending a child to school," her attorney Jon Marko said Thursday. "What makes this matter worse is that the child was abused by her own teacher, who we trust will keep our children safe and prevent this type of harm."
While in gym class, Brown threw the hockey stick at the girl, striking her in the head. Instead of getting her medical attention, the school left the girl to wander the school unsupervised with an "obvious serious head injury," Marko said.
The lawsuit alleges assault and battery, gross negligence, excessive force, and vicarious liability.
The defendants are Brown, Hope Academy, and educational staffing company BFDI Educational Services.
Coming soon: Metro Times Daily newsletter. We'll send you a handful of interesting Detroit stories every morning. Subscribe now to not miss a thing.

Follow us: Google News | NewsBreak | Reddit | Instagram | Facebook | Twitter