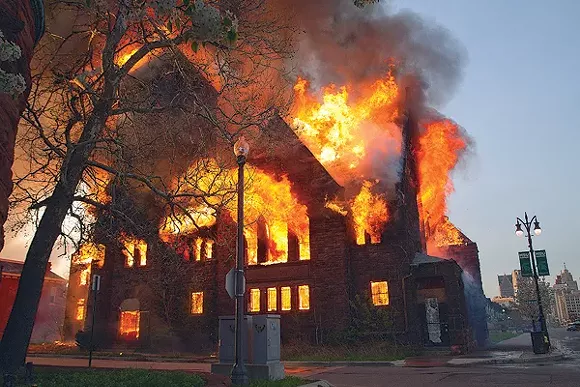 Arsons in Detroit have been in the news quite a bit, as of late: Last week, it was Steve Neavling at Motor City Muckraker, whose reporting led the Detroit Fire Department to
revise figures from last year
. Today, Joel Kurth and Louis Aguilar take a deep-dive into the city's massive problem with arsons, a culmination of a three-month investigation, titled
"Inside Arson Squad: Hectic days, senseless fires."
Here's a snip:
Fire follows seasons in Detroit.

From January to April, car fires are common, [Lt. Joe] Crandall said. Women use tax returns to buy cars, he said. The autos make them less dependent on their men. So the men torch the cars to destroy the women's independence, Crandall said.

Summer to Halloween is the season for torching vacant homes. In winter, arson gives way to accidental fires from space heaters.

Revenge fuels fires in all seasons. Since 2013, it's been a motive in roughly a quarter of suspicious fires with known motives, according to Fire Department data.

"Fire became one of the easiest ways to get your justice," said Capt. Winston Farrow, a 27-year fire veteran who has spent 14 years in the arson squad.
Back in October,
MT
published a cover story on arsons, as well, which you can read
here
.