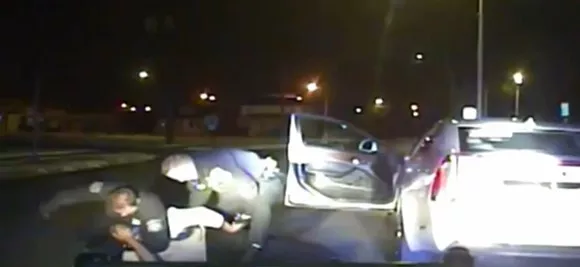 Updated 2:55 p.m. Thursday, Nov. 19 by Lee DeVito:
Former Inkster police officer William "RoboCop" Melendez was found guilty on two of three counts Thursday in the highly publicized beating of Detroiter Floyd Dent,
The Detroit News
reports
. A jury found him guilty of assault and misconduct in office, but not a strangulation charge.
"The case is about power," Assistant Wayne County Prosecutor Robert Donaldson said in court. "(Melendez) abused the power that was entrusted to him. If Mr. Dent was a deranged crackhead he still wouldn't have deserved what happened to him."
Melendez's sentencing is scheduled for Dec. 3.
Originally posted by Ryan Felton on April 17, 2015:
The Inkster police officer who was shown on a patrol video punching Detroiter Floyd Dent repeatedly in the head has been fired, according to multiple reports.
"I consider this to be a political nightmare not only for myself, [but] for my family, my fiance, my coworkers, my partner, and for the local law enforcement community," William Melendez, the former officer,
told WXYZ's Jim Kiertzner
. "It is a very political nightmare; you're trying police officers hands when you're monday morning quarterbacking."
Numerous demonstrations broke out earlier this month
in wake of a video showing Melendez and other responding officers roughly arresting Dent, who is 57.
Dent was pulled over late one night in January after an officer observed him not coming to a full stop at a stop sign. Within moments, the officers are seen on a patrol car video pulling Dent out of his Cadillac, with one repeatedly throwing punches into the Ford auto workers' temple.
The accounts of what took place that night vary wildly between Dent and the Inkster officers who pulled him over. To Dent, he says he was simply trying to park his car in an area on Inkster Drive he felt safe.
Officers say he was eluding them. Dent swears he tried to make it clear he was unarmed; officers, including one nicknamed "RoboCop," deemed him a threat. In the end, Dent was arrested for resisting arrest, assault, and possession of cocaine, which Dent claims the officers planted.
After a judge reviewed the tape, all charges besides the possession of cocaine were dismissed. His case remains pending.