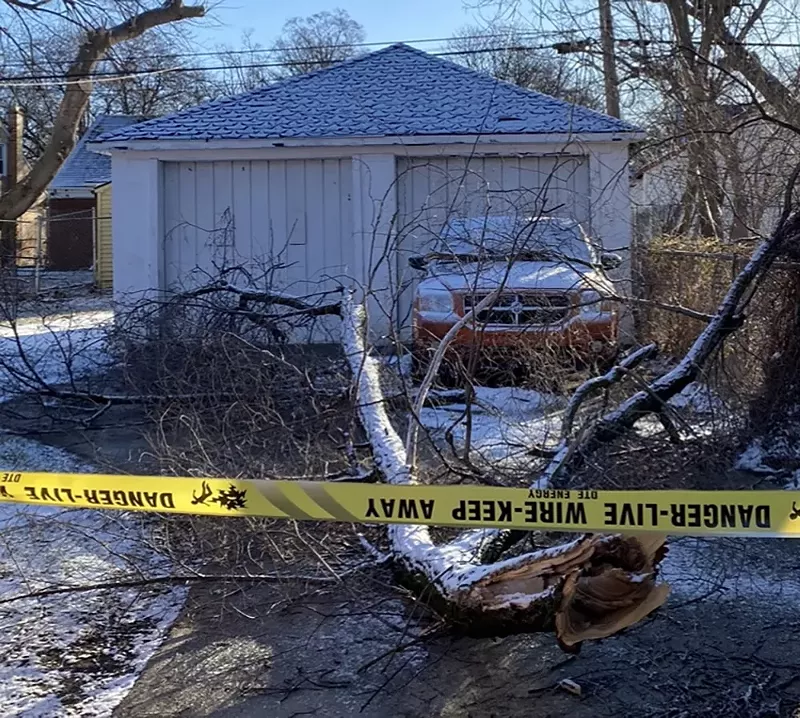 For two weeks, DTE Energy has been the villain in many Detroiters' superhero origin stories.
They certainly are in mine.
I thought my woes with DTE would end when my power was restored after losing it for about 80 hours during the ice storm that left nearly 750,000 Michigan households shivering in the dark last month. But a week later, I found myself in a similar, and more dangerous situation.
During what social media has dubbed a "snunderstorm" on Friday, March 3, a tree limb fell from my neighbor's yard into mine, taking down a power line with it. The wire not only pulled away from my home, but was resting on my car and the roof of my garage. I discovered it on Saturday morning and reported it to DTE, and then began the waiting game.
Last week, my power was out from Friday to Monday due to the ice storm.

Today, I walked outside to this as a result of last night's snow/ice/rain storm.

Of course, no telling when a @DTE_Energy will be available because 200K are without power right now. pic.twitter.com/0mF6hh1hmL

— alex. (@Alex_Washington) March 4, 2023
On Monday, March 6, I called for an update and the agent told me she would escalate the report. Just after midnight, DTE workers finally arrived to tape off the hazard that was my backyard. On Tuesday, March 7, I called a close relative who retired from DTE Energy to see if they could do anything to move the case along, who said they would call a supervisor who still worked at the company. It took four phone calls, three days, two escalations, and a personal favor before DTE workers arrived at my house to fix the power line on Tuesday evening.
I was told by a DTE field worker that my backyard should have been taped the same day I made the initial report due to the hazard. Instead, my yard was left exposed for days, although that is not the claim that DTE's corporate office is making.
In a statement to Metro Times, DTE says a team was sent out "shortly after" the issue was reported and despite the downed wire resting on the roof of my garage and my car, it wasn't an immediate issue because my power was still connected.
"Shortly after you reported your issue, a DTE team came to your home and taped off the area around the wire to help keep you safe," said Dave Akerly, Senior Communications Strategist at DTE Energy. "In storm restoration conditions, we prioritize securing pole to pole downed wires as an immediate hazard because of the high voltage risk to the public. Over the last 5 days, we restored over 220,000 customers including 18,000 customers in a situation similar to yours. Whereas, the service line (pole to house wire) was down, however, the customer had power. This is not considered an immediate hazard based on our service standards. Per our procedure, we address pole to pole wire down, customers with no power, then shift our resources to this next level of service restoration. For additional safety, we pre-flight these jobs, secure the area with yellow barrier (caution) tape and arrange for a crew to return to make final repairs."
But DTE isn't the problem — at least according to them. All these frequent power outages are the result of the weather, the company claims, not its failing infrastructure. It's not just DTE's infrastructure that needs improving — it's their internal communication and protocols that need to be repaired as well. DTE telling me to stay 25 feet away from the wire while also saying the downed line didn't pose an immediate hazard doesn't exactly make sense. Two weeks ago, a Paw Paw firefighter was electrocuted after answering a call about a down power line.
I can't help but wonder if DTE would still insist a wire on top of my car and roof was not an "immediate hazard" if it began to spark during the rainstorm we had after my initial call. Would they still stand behind taping my yard off days later if one of my neighbor's children wandered into my yard and decided to touch the wire?
I can only wonder if the response would have been more pressing had I lived in a suburban city on the north side of Eight Mile Road, instead of in a seemingly low-priority Detroit neighborhood.
Of course, criticisms of DTE aren't anything new. In October, around the same time DTE Energy began to push for an 8.8% rate increase, it was revealed the company donated money to 138 Michigan lawmakers — there are 148 in total. In December, Attorney General Dana Nessel fought to reject a proposal from the company that would have allowed customers to prepay their bills at the risk of lower income residents being subject to gas and electric shutoffs. Moving into the new year, it was reported that DTE cut off power to 128,000 customers in the first 10 months of 2022, the third highest number of shutoffs from an electric company nationwide.
I worry about the people who aren't like me, the ones who don't have jobs that can put them directly in touch with DTE executives for comments. I worry about the people who don't have family or friends who worked for the company, and can call in favors to get their utility problems solved; or the families that only have one car and have to lose out on several days worth of income because their vehicle is trapped under a live wire. What do they do?
Coming soon: Metro Times Daily newsletter. We'll send you a handful of interesting Detroit stories every morning. Subscribe now to not miss a thing.

Follow us: Google News | NewsBreak | Reddit | Instagram | Facebook | Twitter