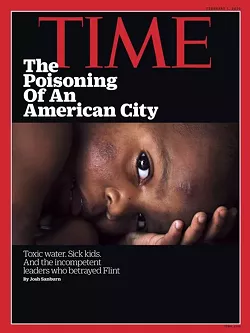 It has been a strange and enlightening spectacle to see the coverage of Flint light up the media this week, especially on social networking. A variety of perspectives are being brought to bear on our little corner of the world, from our hometown press to international reporters.
Of course, the national and international press think this shit is bonkers, which it is. That's not to say that, since Flint broke as a national story, anybody in our local media has said the situation there is anything but tragic. (Bill Ballenger aside, that is, which was a strange story this week in its own right,
one even CNN picked up
.) But it's been obvious some outlets regret their earlier chumminess with Snyder.
In fact, for one longtime reader of the
Detroit Free Press
, the lack of criticism of the events that led up to this crisis were too much. A kiss-off to the writer's hometown paper, titled "
Dear Free Press: That Water Situation In Flint Is Partly Your Doing
," holds the newspaper partly responsible for endorsing Sndyer. It reads: "You endorsed a monster. Twice. And now you're busy trying to undo a tragedy that never had to happen. You want to be heroes? It's too late. The children of Flint have already been poisoned. You can't undo that. You can't undo your endorsements" Pretty strong stuff!
Another surprise: One of the best sources for information on this story as it has evolved has been the coverage of Michigan Radio, which has
gone to trouble to set the facts straight, even where they bump up against the Snyder administration's talking points
.
The work of that station, and Lindsey Smith, has been excellent
. She
tracked down Miguel Del Toral
, the first EPA whistleblower for Flint, and
appeared on Rachel Maddow
. (Maddow is coming to Flint soon for a live MSNBC town hall-type event.)
Want to know how people live in a city with a poisoned water system? Don't miss a great story showing the lengths people go to. The
Free Press
' Robert Allen did
a story on James and Jimmie Thompson
, two brothers who push a hand cart down icy streets two miles a day to pick up gallons of potable water from a church and take it home. (
The parallels with Detroit
are staggering here.)
Who's still drinking it?
The inmates at Genesee County Jail are drinking it again
. For five days, they had bottled water and dried food when lead was detected in their it.
This crisis has even been spun into a pretty funny cartoon (if a cartoon about politicians poisoning people to save money can be funny) that's been making the rounds. It's by political cartoonist Mark Fiore, and it has Gov. Snyder as a money-saving superhero.
Here's the video
.
Notice how that video ends with Gov. Snyder going to Washington to ask for help. That part hasn't been going so well for the guv. He's playing an old businessman's game called "Privatize the profit, socialize the loss." The feds don't see it quite in that light. Pointing out to the Snyder administration that actual human choices played into this event, they've denied him full federal funding.
Again
.
But passing the begging bowl to Washington is just part of Snyder's plan for positive action. After a passionate speech last week, and the release of selected emails,
his administration hired two PR firms
. (If nothing, it shows acknowledgement of a media-relations problem.) He also
suspended two unnamed MDEQ employees
.
But not everybody is piling on Gov. Snyder. His republican colleagues gave him ovation after ovation during his recent State of the State address.
Jeb Bush voiced some support
too. And
at least one Michigan politician
blames Flint for the crisis and warns he won't be issuing any "blank checks" or looking at "Christmas lists" that won't solve the problem.
But one of the extra special pleasures has seeing names from
Metro Times
appear on our feed. Dining editor
Serena Daniels writing for Reuters
.
Ryan Felton for the Guardian
. And, of course Curt Guyette, who helped break this story. In the last week, he's
appeared on On the Media
, and
in the Guardian
.
Also of note, longtime local rag
Labor Notes
has a piece that doesn't break any news but puts together
a Flint resident and auto worker's perspective on things
, one that ends up being a lot deeper than many of the stories about incompetence or tragic mistakes.