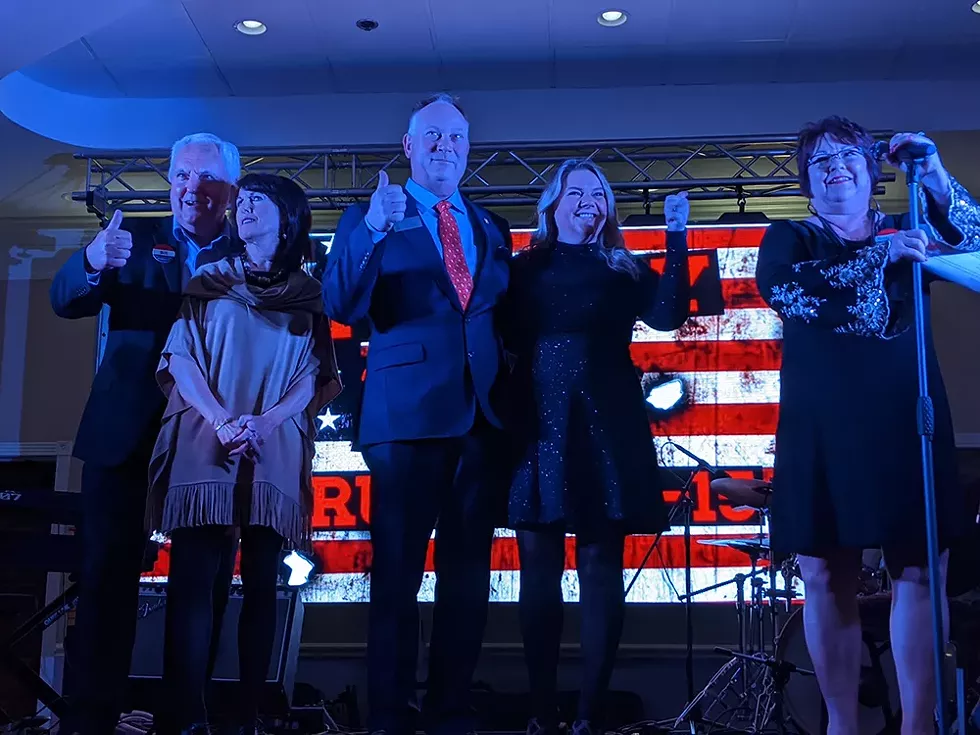 Two months before Trump supporters stormed the U.S. Capitol in Washington, D.C., on Jan. 6, an angry mob descended on the basement of the TCF Center in downtown Detroit.

Shouting "Stop the count!" and "Let us in!" they pounded on the windows of a large conference room, where workers were counting absentee ballots for the general election. A prayer circle broke out, and some held signs that read "No Reason for Treason" and "Christians for Trump."
Police scrambled to stop them from getting inside as election workers looked on in fear.
At the center of the chaos were state State Rep. Matt Maddock, R-Milford, and his wife, Michigan Republican Party co-chair Meshawn Maddock — an antagonistic, Trump-loving power couple whose influence is growing as the state GOP shifts further to the right.
Like the violent insurrection on Jan. 6, the protest in Detroit was inspired by falsehoods about the election. Earlier in the day, Matt Maddock falsely claimed on social media that 35,000 ballots "showed up out of nowhere" in the middle of the night and that Democrats "were pretty much cheating in front of poll watchers."
"Who is available to go to (TCF Center) right now to help monitor the vote?" he pleaded on Facebook. "Need help."
An identical message was posted on two Facebook pages operated by right-wing groups founded by the Maddocks. The posts were shared more than 1,800 times, whipping up unfounded fears that Democrats were stealing the election.
"My friend drove to Oakland County from quite far away, per your request," Nicole ML responded on Facebook.
Hundreds of people commented on the Facebook pages, expressing outrage.
"This election is a sham!" Barbara Nutt responded.
"Damned thieves!!!" cried Joel Krupa.
"They are stealing our election!!" echoed Leah Reed Sprague Davis.
"Dear God please send your faithful warriors to help," Imelda Flint wrote.
Laura Williams had another idea: "Insert sleeping gas to the vents!"
Inside TCF Center, Meshawn Maddock, who wasn't wearing a mask, whipped out her phone, adorned with a Trump 2020 sticker, and recorded video of election workers. Her husband paced back and forth and posted a live Facebook video in which he falsely suggested Republican poll watchers were not allowed to monitor the count.
As the evening grew on, the mob grew bigger and spilled outside the building.
"Thank you all for answering the call," Matt Maddock posted on Facebook later in the day. "Dems are doing every trick in the book to obstruct poll watchers. They are denying access, blocking poll watchers from seeing the voter lists, shutting down elevators, chaining exit doors, telling volunteers to leave as they arrive, prohibiting volunteers from returning when they leave and more."
The truth was, more than 100 Republicans had signed up to monitor the polls, and they were allowed to observe the votes. No evidence of voter fraud was ever found. Like with the Jan. 6 insurrection, Trump supporters were trying to disrupt the democratic process.
A day after the TCF Center incident, Meshawn Maddock urged followers on Twitter to keep up the fight, escalating the kind of dangerous rhetoric that inspired insurrection.
"Do not back down," she tweeted. "Democrats are trying to steal this election and they are not even trying to hide their treachery."
The protest and the falsehoods that led up to it were a prelude to the violent riot at the U.S. Capitol, where five people, including a Capitol Hill police officer, died. For two months, the Maddocks continued to play an outsized role in the "Stop the Steal" movement, pushing false claims about voter fraud, fomenting outrage, and encouraging Trump supporters to challenge the election. They routinely made baseless claims on Twitter and Facebook pages where participants discussed civil war.
As tensions were reaching a boiling point, Meshawn Maddock helped promote and organize busloads of Michigan residents to travel to Washington, D.C., for the Jan. 6 rally, where she delivered a speech a day before the insurrection, fusing together Christian nationalism and Trumpism. Standing next to her husband, she declared Trump was "the greatest president this nation will ever know."
"No matter what happens today or tomorrow, I know that God reigns, we trust the Lord, but we never stop fighting," she told the swelling crowd.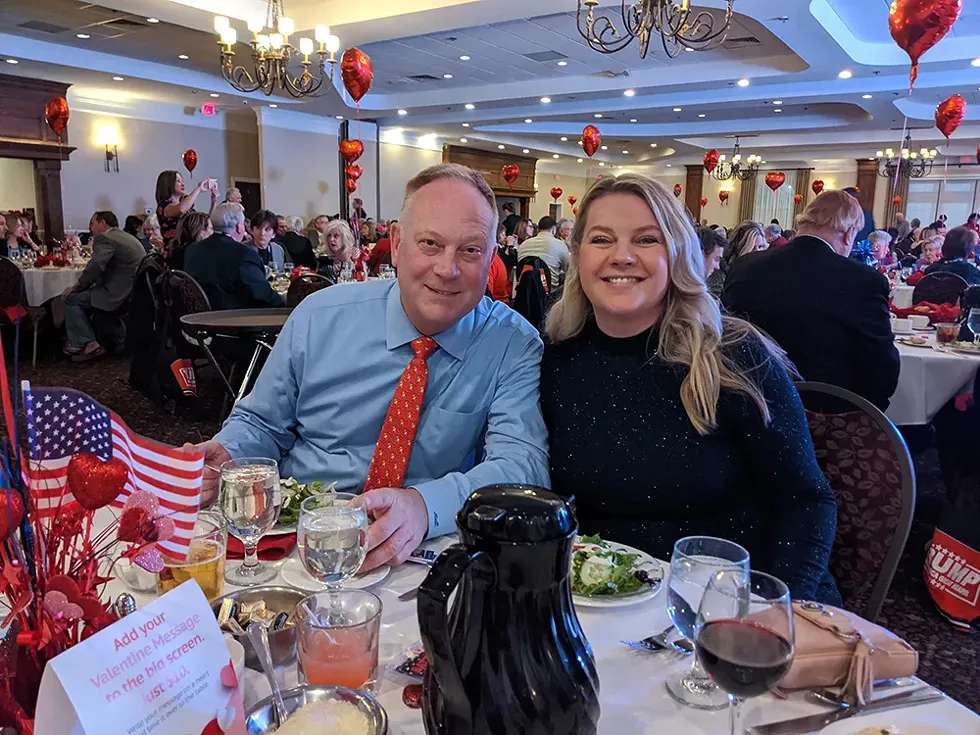 Meet the Maddocks
Matt Maddock, a bail bondsman, early Tea Party organizer, and longtime grassroots activist, was elected to the state House in 2018 with an endorsement from reality-TV star Duane Chapman, aka "Dog the Bounty Hunter." With a fanatic devotion to Trump, Meshawn Maddock ascended the Michigan Republican Party ranks and served on the national advisory board for "Women for Trump," organizing pro-Trump rallies and wine-and-cheese events ahead of the election, where guests gathered without wearing masks, in violation of pandemic orders. She also was one of the most outspoken opponents of Gov. Gretchen Whitmer's COVID-19 restrictions, peddling falsehoods about the virus as it claimed thousands of lives in Michigan.
Even after the infamous Jan. 6 riot, a month later, the former stay-at-home mom was elected co-chair of the Michigan Republican Party, a move that political observers say demonstrates the radicalization of the state's GOP and a sure sign that Trumpism isn't going anywhere anytime soon.
Jeff Timmer, who headed the Michigan Republican Party from 2005-2009, says Meshawn Maddock moved up the party ranks by fully embracing Trumpism, antagonizing opponents, and indulging in outlandish conspiracy theories. She is now "the most powerful person in Michigan Republican politics," he says.
"She is nuts. Her husband is nuts. They are crazy, stupid, and mean," Timmer tells Metro Times. "They think they are saving the world."
About five years ago, the Maddocks co-founded the Michigan Conservative Coalition, an influential collection of right-wing organizations and pro-Trump groups aimed at recruiting and training an "army of conservative activists." The mission of the coalition, which goes by the name of Michigan Trump Republicans, is to shift the state GOP further to the right.
"The Republican Party had taken a wrong turn," the coalition's website states. "That turn was that the Party was headed left, away from the principles that our Founding Fathers had laid out in our Constitution. It was no longer even following its platform. A handful of volunteers felt called to guide the GOP, and especially the Michigan Republican Party, back to the 'right' side of the road."
In 2016, the coalition began hosting Battle Cry, a two-day training event billed as the largest conservative conference in the Midwest. The aim is to recruit and train conservative precinct delegates to reshape the party's agenda. Its past events featured speakers such as My Pillow CEO Mike Lindell, Trump operative Corey Lewandowsi, and right-wing writer Michelle Malkin.
The coalition is also known for hosting boisterous rallies. After Rep. Justin Amash, a Michigan Republican at the time, called for Trump's impeachement, the coalition held a "Squash Amash" rally in Grand Rapids in June 2019 that drew more than 100 supporters, many of them waving American flags and holding pro-Trump signs.
"If President Trump were standing next to me, do you know what he'd say? He would say, 'Justin, you're fired," Meshawn Maddock, wearing a Women for Trump shirt, told a screaming crowd.
"She is nuts. Her husband is nuts. They are crazy, stupid, and mean," former Michigan GOP head Jeff Timmer says. "They think they are saving the world."

tweet this
The coalition also held rallies to disrupt town hall meetings held by U.S. Reps. Elissa Slotkin and Haley Stevens, both Democrats, because they supported impeachment.
For the Maddocks, politics is a no-holds-barred fight between right and wrong.
"I feel like it's time for conservatives to start using the same tactics that the left has used for a long time, and I don't want to be passive about it anymore," Meshawn Maddock told Bridge last year. "I'm really not interested in bipartisan or reaching-across-the-aisle politics. The world is divided right now, and I'm OK with it, because the truth is, I feel like I'm on the right side."
A day after Christmas, the coalition declared on Facebook that "Trump Republicans will dominate the party."
Earlier this month, Matt Maddock and the coalition spoke in support of U.S. Rep. Marjorie Taylor Greene, a newly elected Georgia Republican who spread QAnon conspiracy theories that allege the government is run by a secret cabal of Satanic pedophiles, blamed California's wildfires on Jewish space lasers, and endorsed baseless claims that school shootings in Florida and Connecticut were staged "false-flag" events.
"SHE is Trumps GOP!" the coalition said of Greene on Facebook. "We need to embrace her."
As many Republicans on the national level tried to distance themselves from Greene, Matt Maddock boasted that he donated $100 to her campaign.
"You should too," Maddock posted on Facebook.
At a Black Lives Matter march in Milford in June 2020, Meshawn Maddock stood along the side of the road with her husband and booed young demonstrators, many of whom of them teenagers, who were chanting "Black Lives Matter" and marching with signs advocating racial justice.
"They called the kids losers and entitled brats and gave them the thumbs down," Sarah Moore, a 65-year-old Milford activist, tells Metro Times. "They said Black lives don't matter in this community. I was appalled."
Moore, whose family has been active in the community for generations, said the Maddocks are a disgrace to Milford.
"This is not the community for them. I've never dealt with anything like them," she says. "They're horrible people."
She says the Maddocks have a big wooden cross on their lawn and used to fly the Confederate flag.
Downplaying COVID-19
The Michigan Conservative Coalition garnered national attention last year by organizing Operation Gridlock, an anti-lockdown protest that intentionally jammed the streets in Lansing in April and inspired similar demonstrations nationwide, including a protest two weeks later that led to a heavily armed mob entering the state Capitol building. Maddock spoke with some of the intruders and later told The Detroit News, "I like being around people with guns."
Since the pandemic broke out in Michigan in March, the Maddocks have downplayed COVID-19, peddled misinformation about the virus, and criticized masks.
"COVID is less lethal than the flu," Matt Maddock posted on Facebook in October.
According to the World Health Organization, the flu kills between 290,000 and 650,000 people a year worldwide. By contrast, COVID-19 has claimed 2.4 million lives across the globe in the past year — and that's with tight social-distancing restrictions that aren't in place to combat the flu.
In November, Matt Maddock led an effort to begin impeachment hearings for Whitmer over her handling of the coronavirus, which include social-distancing measures that researchers have said saved lives.
"She has exceeded her constitutional authority, violated the constitutional rights of the people of Michigan, issued orders that are not in the best interests of the people of this state, and used the Pandemic as an opportunity to reward political allies," the impeachment resolution stated.
Then-House Speaker Lee Chatfield, a Republican, quickly shut down the process, saying he doesn't support impeaching someone "because we disagree with them."
Whitmer dismissed the impeachment calls as a political stunt.
"Governor Whitmer doesn't have any time for partisan politics or people who don't wear masks, don't believe in science, and don't have a plan to fight this virus," Whitmer's spokeswoman Tiffany Brown said in a statement at the time.
On its website, the Michigan Conservative Coalition claims "masks are dangerous to your health" and includes a link to a video that has since been removed from YouTube for containing misinformation about the virus.
In November, Meshawn Maddock said she's boycotting retailers who sell masks as gifts.
"Any retailer that is selling masks this holiday season will not get my $ #BoycottMaskGifts," she tweeted. "No one should want to give MASKS!?"