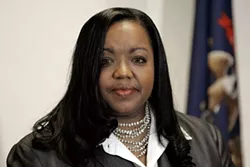 A report issued Wednesday criticized the Wayne County's prosecutor's office as an "extreme outlier" on juvenile life without parole cases — even as the county moved this month to resentence nearly 150 juvenile lifers.
Following a string of decisions by the U.S. Supreme Court over the last decade, which have found juvenile life sentences to be unconstitutional, prosecutors across the country have moved to outlaw juvenile lifer sentences, or to permit resentencing for inmates who are serving sentences. In Philadelphia, for example, the district attorney has permitted resentencing for an estimated 300 inmates serving juvenile lifer sentences — in line with the High Court's rulings.
With Philadelphia moving along, Wayne County will now have more individuals serving juvenile life without parole sentences than "any other jurisdiction in the country," according to the Wednesday report from the Harvard Law School's Fair Punishment Project. Worthy's office said last month that motions had been filed to resentence 81 cases, while it plans to "aggressively pursue" life without possibility of parole in 60 other cases.
That, said the Harvard law school's project, is wholly inappropriate.
"There is growing national consensus that life without parole is an inappropriate sentence for kids," the Fair Punishment Project's Rob Smith said in a statement.
"D.A. Worthy's decision to again seek life without parole for one out of three individuals who were convicted as juveniles is completely out of line with the Supreme Court's ruling, mounting scientific research, the practices of prosecutors across the country, and years of experience that have shown us that youth are capable of change and deserve an opportunity to earn their release."
The 16-page report highlighted how, despite Wayne County accounting for 18 percent of Michigan's population, it maintains at least 40 percent of the juvenile lifer sentences in the state. Worthy's office has obtained 27 juvenile lifer sentences since she took office, the report said.
Worthy said Wednesday that her office analyzed each juvenile case after the High Court decisions were reached, and had "one of the shortest time periods in the country to do so" under Michigan statute.
The prosecutor's office "combed trial transcripts, prison records, and numerous other documents," she said, as well as seeking "input from from victims' families, when they could be located during this short window of time."
In cases where life without parole was recommended by Worthy's office, "many of the juveniles committed disturbing crimes, and once they were in prison they continued to commit crimes, and have serious misconduct issues well into mature adulthood," she said, adding: "These facts simply cannot be ignored."
Worthy said she doubts the authors of the Fair Punishment Project report did "any kind of impartial or serious analysis" of the 60 defendants' backgrounds.
"We have fulfilled our obligation to protect the public and to follow the spirit and intent of the Supreme Court decisions," the prosecutor said.