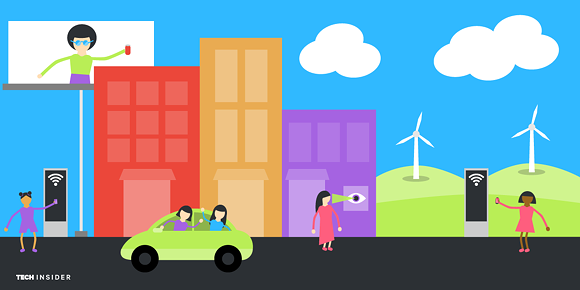 Imagine this city: there's glistening streets, universal wifi, phone charging stations every block. Billboard ads are no longer useless, public schools are incredibly efficient, and transport is lightening fast. What if we told you this city was Detroit? This may sound like pure wishful thinking, but Google may make this dream a reality.

According to a recent report by Vanity Fair, Detroit is under consideration for Google's newest innovation: Project Sidewalk. Project Sidewalk is essentially a "smart city" program, in which Google's interface will manifest itself throughout the infrastructure of a neighborhood.

Amenities of such a smart city include various kiosks around the city, in which citizens can make phone calls and charge their various gadgets through USB ports. Along with this, 'Project Sidewalk' would implement city-wide wifi access, which would be powered by wind and solar harnessing methods.

The hypothetical city would also include augmented reality technology, allowing advertisers to create unique billboard ads for the individual. Vanity Fair's HIVE stated, "The new city would be a "test bed" for technological advancements including self-driving vehicles, super-fast Internet (think of Google Fiber), and all sorts of smart, Internet-connected devices. The Information reports that Denver and Detroit are being considered as test areas for Project Sidewalk."

The full report can be found here.