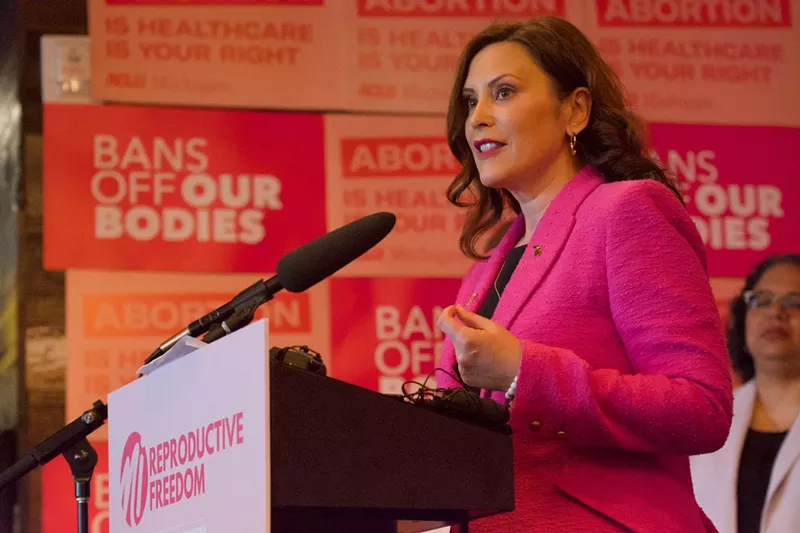 Last year, Michiganders voted to protect abortion rights and reproductive healthcare in a close race.
On Wednesday, Governor Gretchen Whitmer signed legislation that officially repeals Michigan's controversial 1931 abortion ban.
"In November, Michiganders sent a clear message: we deserve to make our own decisions about [our] own bodies," said Governor Whitmer. "Today, we are coming together to repeal the extreme 1931 law banning abortion without exceptions for rape or incest and criminalizing nurses and doctors for doing their jobs. Standing up for people's fundamental freedoms is the right thing to do and it's also just good economics. By getting this done, we will help attract talent and business investment too. I will continue to use every tool in my toolbox to support, protect, and affirm reproductive freedom for every Michigander, and I'll work with anyone to make Michigan a welcoming beacon of opportunity where anyone can envision a future."
At the signing, the governor was joined by representatives from EMILY's LIST, Planned Parenthood, the Committee to Protect Health Care, NARAL, and other bill sponsors.
Dr. Omari Young, a member of the Committee to Protect Health Care and an obstetrician and gynecologist based in Flint, released a statement commending Gov. Whitmer.
"Last year, Michigan doctors and voters alike made it clear that we don't want politicians interfering in women's personal health care decisions, and Governor Whitmer and the Michigan Legislature listened," the statement reads. "We commend Gov. Whitmer and lawmakers for moving quickly this year to strike this archaic, dangerous ban from the books to add another layer of protection for my patients and women across the state. Governor Whitmer has been a champion for women's health and reproductive freedom, and doctors are grateful for her decisive leadership."
Michigan joins Montana, Alaska, Nevada, Colorado, Kansas, South Carolina, Florida, Maryland, Massachusetts, and Maine as the state moves to protect abortion and reproductive healthcare post-Dobbs v. Jackson.
"With the repeal of Michigan's 1931 criminal abortion ban, Michigan continues to lead the way in the fight to restore our fundamental right to access abortion," said Nicole Wells Stallworth, executive director of Planned Parenthood Advocates of Michigan. "We are grateful to Governor Whitmer and reproductive health champions in the legislature who have worked to remove this dangerous and unconstitutional abortion ban from Michigan's law books. Abortion providers will no longer have to fear they will be criminally prosecuted for delivering the essential, life-saving health care their patients need and deserve."
Michigan was one of 26 states whose dated abortion law went back into effect after the United States Supreme Court overturned the 1973 landmark Roe v. Wade decision last June. In September, a Michigan judge ruled that the 1931 ban was unconstitutional, after previously issuing an injunction on the ban earlier that year.
Coming soon: Metro Times Daily newsletter. We'll send you a handful of interesting Detroit stories every morning. Subscribe now to not miss a thing.

Follow us: Google News | NewsBreak | Reddit | Instagram | Facebook | Twitter