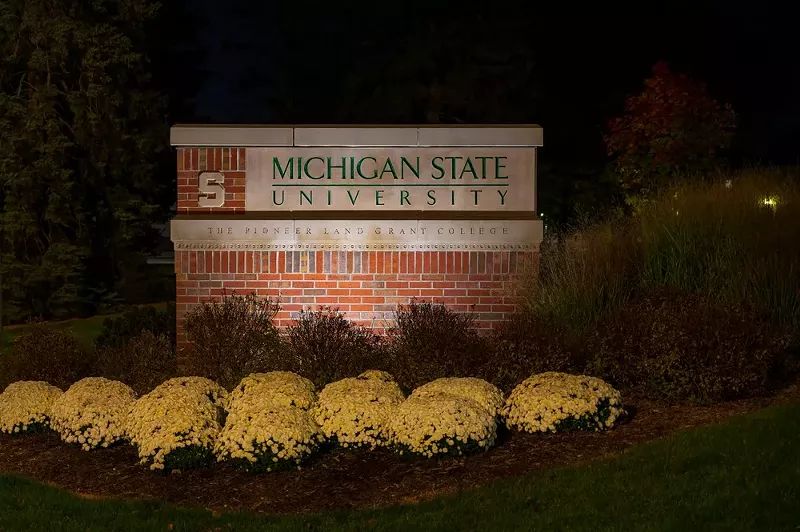 Here we go again.
About 14 months after the mass shooting at Oxford High School,
a gunman unleashed terror
at Michigan State University, killing three students and injuring five more.
It was at least the 67th mass shooting in the U.S. so far this year.
The cycle of gun violence in America is as predictable as the response — thoughts and prayers.
After 15-year-old Ethan Crumbley murdered four students and injured seven others at Oxford High School on Nov. 30, 2021, Republican lawmakers blocked even modest gun control measures proposed by Democrats.
Now Democrats control the state House and Senate, and they're pledging to do something about the gun violence.
"Fuck your thoughts and prayers," Rep. Ranjeev Puri, D-Canton, said in a statement.
"We do not need to live like this," the first term lawmaker continued. "The United States is the only country where this happens. Where mass shootings have left us desensitized, waking up each day to a seemingly never-ending horrific cycle of gun violence."
Puri and other Democrats said they won't waste time introducing legislation aimed at curbing gun violence.
"Our office will continue to work tirelessly to pass common sense gun reform immediately," Puri said. "We will not stop until our students can attend school without fear, our communities can attend places of worship in peace, and our society is safe from senseless gun violence."
At a news conference Tuesday morning, Gov. Gretchen Whitmer said the time for empty rhetoric is over.
"As parents we tell our kids, it's gonna be OK. We say that all the time," Whitmer said. "But the truth is words are not good enough. We must act, and we will."
Last year, Democratic lawmakers tried in vain to enact measures like background checks for firearm purchases, safe gun storage requirements, and "red flag" laws that enable courts to temporarily seize guns from people deemed a danger to themselves or others.
During the State of State address last month,
Whitmer called on lawmakers
to advance the bills.
"The time for thoughts and prayers is over," Whitmer said in a statement after the address. "It's time for common-sense action."
Most Michigan residents agree. Nearly two-thirds of the state's voters support stricter gun safety laws, according to
a poll in September
.
About 55% of voters support banning all assault-style rifles, such as the AR-15, and 57% favor banning high-capacity ammunition magazines.
Education leaders are also urging lawmakers to act.
"We cannot become numb and accept this violence as normal," American Federation of Teachers President Randi Weingarten and AFT Michigan President David Hecker said in a statement. "We cannot allow politics to hold us back from acting. Too many lives have been taken because of gun violence and too little has been done. Our elected officials need to act and push through common sense gun violence prevention legislation that will save lives."
Oakland County Executive Dave Coulter, a Democrat and MSU alumnus, agreed.
"It is far past time to summon the courage to address the scourge of violence that has shattered the peace of Oxford, our state, and my dear MSU," Coulter said. "This madness at our schools — where kids go to learn and chart the course of their lives — has got to stop."
At her second news conference following a mass shooting in a little over a year, U.S. Rep. Elissa Slotkin, D-Lansing, repeated her call for action.
"You either care about protecting kids, or you don't," Slotkin said. "Please don't tell me you care about the safety of children if you are not willing to have a conversation about keeping them safe in a place that should be a sanctuary."
Coming soon: Metro Times Daily newsletter. We'll send you a handful of interesting Detroit stories every morning. Subscribe now to not miss a thing.

Follow us: Google News | NewsBreak | Reddit | Instagram | Facebook | Twitter