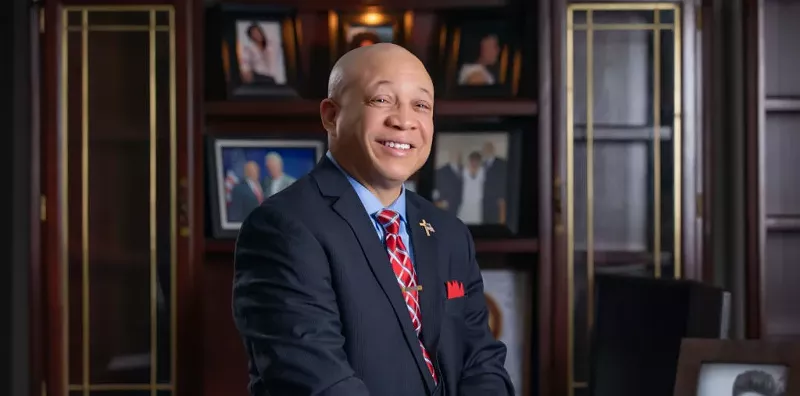 Flint Mayor Sheldon Neely has come under fire for using the city's new emergency alert system to promote an Easter egg hunt that he and his wife, state Rep. Cynthia Neeley, attended.
Alert Flint, a program of the CodeRED emergency notification system, is intended to warn residents of things like active shooters, natural disasters, missing children, evacuations, road maintenance, and boil water advisories.
On the same week as the alert, one of the city's water pump stations became overwhelmed with rain,
flooding residents' homes with raw sewage
. No alert was sent out.
"Please join Mayor Sheldon Neeley for an Easter Egg Hunt today, Thursday, April 6, from 4 to 6 p.m. on the lawn behind Flint City Hall," the message stated. "This event is free for kids ages 0-11 years old. We hope to see you there."
Residents of the city, which are still reeling from the deadly lead water crisis, were incensed to receive the message about the egg hunt but not the flood, accusing the mayor of using public resources to promote himself.
"At No Point should the City of Flints Emergency Alert System be used for an Easter Egg Hunt notification when not one resident was notified about Pump Station #5 that suffered catastrophic mechanical failure whereas Flint residents had 1-3 feet of standing water that ruined their furnaces, Hot water heaters, washer/dryer's, drywall, flooring, furniture and etc. and we're left scrambling for help," Flint Councilwoman Tonya Burns
wrote on Facebook
. "Emergency alert systems are in place for emergencies only."
The previous alert warned residents of a "Snow Emergency" on March 3.
At
a news conference for the notification system
, Neeley said about 50,000 residents had signed up.
"The Alert Flint notification system will allow us to quickly deliver vital information to the Flint community during emergencies," Neeley said at the time. "This gives our residents the opportunity to be better prepared in the event of an emergency and will help protect the lives, safety, and welfare of our citizens."
State law prohibits public officials from using government resources for campaign-related purposes. While it's unclear whether the event can be described as political, it clearly promoted Neeley and his wife, both of whom are Democrats.
A colorful flyer for the event features photos of Neeley and his wife, with the words, "Sheldon, Cynthia Neeley & Friends Present 20th Annual Golden Egg Hunt." The flyer also says, "God is real. Neeley Team Unity."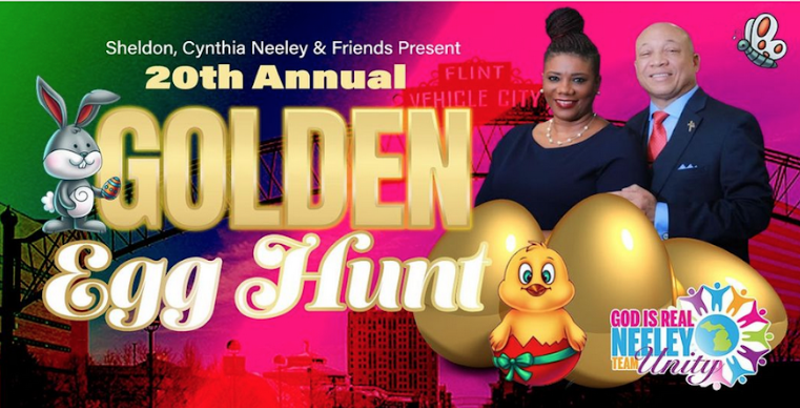 "This is a clear abuse of the system and your power as Mayor," Susan Green wrote on Facebook.
Matthew Herrick responded, "I'm so sick of this city. People are moving away from Flint because of reasons like this!"
In a statement, Neeley's spokeswoman Caitie O'Neill defended the alert, insisting the system is also intended to "communicate general city services messages."
"Alert Flint is being misrepresented by political opponents of the City of Flint administration who are deliberately spreading libelous disinformation and feeding falsehoods to media outlets to give their rhetoric the appearance of legitimacy," O'Neill tells
Metro Times
in a prepared statement. "To call Alert Flint solely an 'emergency alert system' is a misrepresentation of the facts, since the system has a much broader purpose."
But
an archived review
of the city's website shows that it originally listed six reasons for an alert, and all were emergencies except for road maintenance updates. After the egg hunt,
the city added "community updates"
to the list.
When Neeley announced the notification system in March, he said the system was for emergencies.
"We want to be able to put this alert system in place to be able to ultimately save lives, and it will save lives," Neeley said.
OnSolve
, the company that operates CodeRED, the system that the city uses, says on its website that the alerts are intended to "provide real-time information that helps save lives in the community."
Coming soon: Metro Times Daily newsletter. We'll send you a handful of interesting Detroit stories every morning. Subscribe now to not miss a thing.

Follow us: Google News | NewsBreak | Reddit | Instagram | Facebook | Twitter