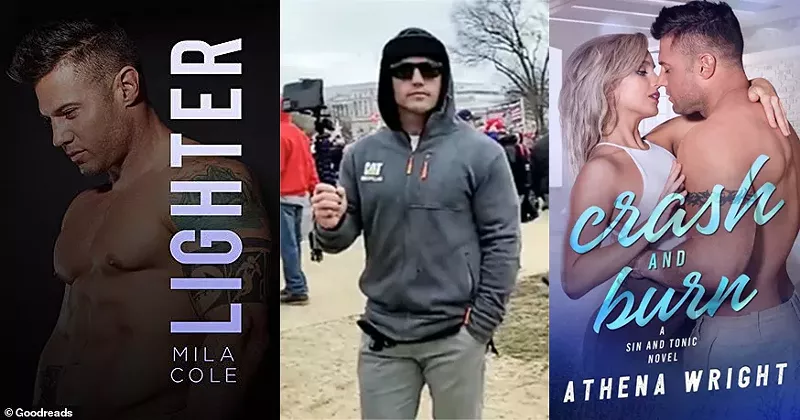 A Michigan bodybuilder who posed for romance novel covers was sentenced to three years in prison for dragging a police officer down the steps of the U.S. Capitol and using the base of a flagpole to assault other officers during the Jan. 6, 2021, insurrection.
Logan Barnhart, 42, of Holt,
pleaded guilty in September
to assaulting officers using a dangerous weapon.
He was arrested
in August 2021.
Barnhart admitted he was part of a mob that assaulted officers at the archway leading to the building.
Barnhart climbed over a banister to reach the steps, where he grabbed an officer by the neck of his ballistic vest and dragged him down the steps and into the crowd, where other rioters beat the officer with weapons, including a flagpole and baton. The officer was injured in the attack.
Online sleuths helped identify Barnhart using a facial recognition website. They found Barnhart on Instagram, bodybuilding websites, and on the covers of several romance novels.
After the riot, Barnhart didn't go into hiding. He often posted videos and photos on Instagram, mocking the FBI and Black Lives Matter and suggesting the insurrection was part of a deep state conspiracy theory.
Barnhart had faced up to 20 years in prison when he is sentenced on March 9.
He is among
at least 23 Michigan residents to be charged for their involvement in the insurrection
.
Coming soon: Metro Times Daily newsletter. We'll send you a handful of interesting Detroit stories every morning. Subscribe now to not miss a thing.

Follow us: Google News | NewsBreak | Reddit | Instagram | Facebook | Twitter