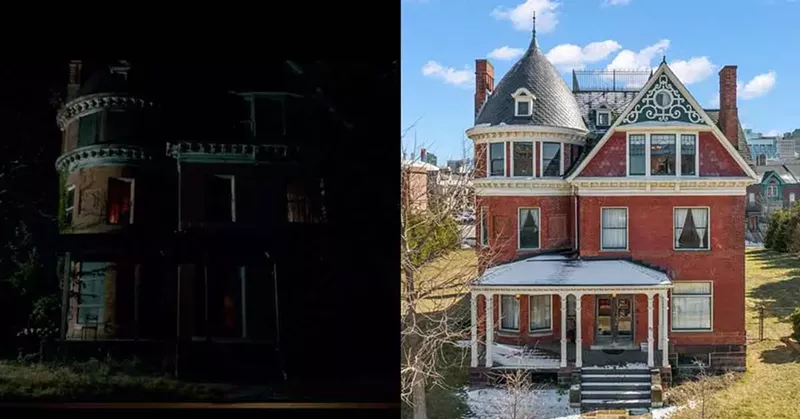 Want to live like a rock star vampire? Well, here's your chance.
An astute reader pointed out that a Detroit real estate listing recently posted by Metro Times was actually a filming location for Only Lovers Left Alive, the acclaimed 2013 film by writer and director Jim Jarmusch.
The movie stars Tom Hiddleston and Tilda Swinton as Adam and Eve, two vampires who have been in love for centuries and hide in the shadows. The formerly dilapidated house that Adam lives in is located at 82 Alfred Street in Detroit's Brush Park neighborhood.
The four-story house was built in 1879 by James P. Donaldson and later purchased in 1893 by David C. Whitney, the son of lumber baron David Whitney Jr. In the 20th century, as Detroit became the Motor City, it was converted into a boarding house to accommodate the influx of auto workers. By the time Jarmusch came by to make his movie, only a few inhabited houses remained in the neighborhood, making it perfect for Adam's hideout.
According to the production scouting website LocationsHub, Jarmusch and his team looked at many locations for filming before settling on 82 Alfred Street, thanks to its authentic charm. "The places are like characters, they're as important to me as characters in the film," Jarmusch said.
Reportedly, the house was acquired by Jeff Cowin shortly after filming wrapped, who began the process of fixing up the property. "It's a labor of love. I work all the time, all my waking hours, but it's my passion," Cowin said. "It's magical when you can walk in the door and you can sense the history."
The 6,200-square-foot Queen Anne-style house has since received a major makeover, with a hefty $2.5 million asking price. Modern amenities include new roofing, chimneys, plumbing, and heating and cooling, and the 1,000-square-foot carriage house can be rented out for additional income. Plus, the neighborhood has changed quite a bit since the movie was filmed, with new developments like Little Caesars Arena just steps away.
You can take a peek inside the house in the photo gallery below.
Subscribe to Metro Times newsletters.

Follow us: Google News | NewsBreak | Reddit | Instagram | Facebook | Twitter