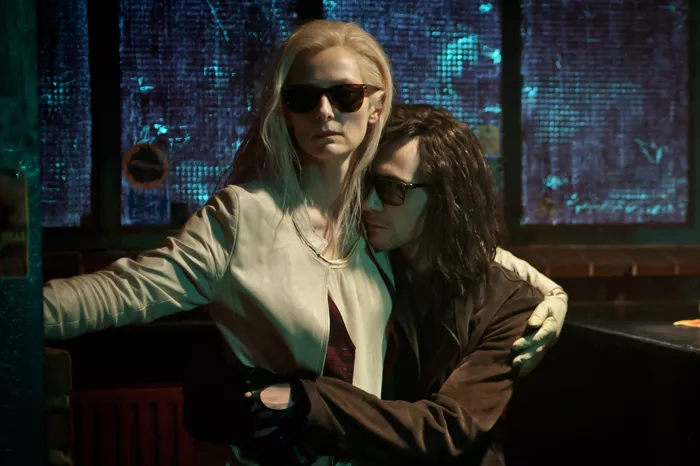 Only Lovers Left Alive | B+
To burn out or fade away? That is the question that vexes Adam (Tom Hiddleston), a centuries-old vampire who has become jaded with the modern world and has decided to live in obscurity in a crumbling Victorian house amid the ruins of Detroit. He's a brooding, post-punk goth who lives among his vintage guitars and electronic equipment, composing moody ambient rock and contemplating suicide. His sole companion is Ian (Anton Yelchin), a loyal fan-boy who acquires whatever he needs — mostly hard-to-find music gear but also a rare wooden bullet.
One can imagine that Hiddleston is a stand-in for writer-director Jim Jarmusch (Broken Flowers, Ghost Dog, Dead Man) as he speaks in defense of elitism and good taste, of those who know when quality has been missed and cheapness has been inappropriately embraced. It's the shallow, disposable state of the world that depresses the undead, as Only Lovers Left Alive becomes a clever excuse for Jarmusch to indulge in his thematic fetishes, waxing poetic about the state of music, the economy, the automobile industry today, as well as the devaluation of real genius. A quick glance at Adam's wall of portraits reveals a telling roster of cultural heroes: William S. Burroughs, Billie Holiday, and Nikola Tesla. Even Jarmusch's former cinematographer Robby Muller gets a visual shout-out.
And who better than to comment on the flimsy state of the world than a disillusioned immortal? Jarmusch has no real interest in what it means to be a vampire; he's using the genre to riff, like an aging rocker. And it's that bleak, world-weary mood that alarms Adam's lover, Eve (Tilda Swinton).
Living in Bohemian comfort in Tangiers, wearing sumptuous kimonos and sipping contraband blood with Christopher Marlowe (the delightfully cadaverous John Hurt), Eve's latest Skype session with Adam has her packing a suitcase full of books (only the necessities) and arranging a series of night-flights to Detroit. Their reunion is touchingly genuine — both Victorian in its courtliness and deeply affectionate.
Hiddleston and Swinton are brilliantly cast, bringing a timeless quality to their centuries-long relationship. Eve provides an optimistic counter balance to Adam's dour worldview. After surviving so many historic atrocities — plagues, inquisitions, wars — she's always game for the next bout of social renewal and delights in simple pleasures like spotting a skunk in her lover's yard. Adam remains unswayed. He cares too much and as such is ready to write off the entire human race, referring to them as zombies who are in "fear of their own imaginations." Imagine Morticia Addams married to Neal Gaiman's Sandman (attention, casting directors). Their deadpan, hipsters-in-love routine is infectious.
Of course, recognizing that he can't make a movie entirely devoid of plot, Jarmusch introduces the complications of securing blood in a more attentive modern world and, more particularly, by introducing Eve's spoiled little (vampiric) sister, Ava (the deliciously petulant Mia Wasikowska). A polka-dot-tights-wearing troublemaker, Ava threatens Adam's anonymity and shows a disturbing interest in his assistant, Ian.
Only Lovers Left Alive is dramatically slight and languidly contemplative in the way that Jarmusch's best work is, choosing atmosphere, rhythm and clever conversation over plot and character depth. It's a welcome rebound from his intellectually and thematically scattered The Limits of Control. With Only Lovers, he displays both an impish sense of wit (Jeffrey Wright is fab as the doctor who illegally procures Adam's blood supply) and some wonderful stylistic flourishes, most especially the overhead shots that revolve like a record on a turntable.
For those who already enjoy Jarmusch's sensibilities, mostly Gen Xers who dig his gutter indie intellectualism, Only Lovers Left Alive is a welcome tonic to the tween emo affectations that have emasculated vampire lore. Yes, Adam and Eve are equally artificial, pale shadows of the monsters they once were. But in the age of Internet voyeurism, dwindling attention spans and vox populi wisdom, aren't we all just secondhand copies pretending to be original?
Only Lovers Left Alive opens Friday, May 2, it's rated R and has a running time of 123 minutes.