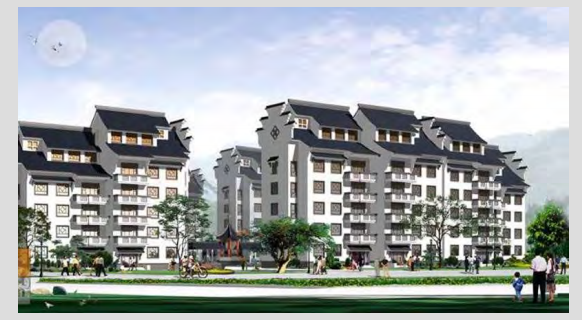 (The story was updated at 1:48 p.m. on 9/27 with more information from Council Member Pete Murdock.)
As of this writing, four city of Ypsilanti officials — Mayor Amanda Edmonds, mayor pro-tem Nicole Brown, police chief Tony DeGiusti, and economic development director Beth Ernat — are in China.
The officials took the trip to view architecture and talk to investors interested in
a proposed $300 million development called International Village
to be built on Ypsilanti-owned land. The largely Chinese-funded development would mostly house students who are expected to be from China or from other Asian countries.
City officials and the public were led to believe that the Wayne State University Chinese Students and Scholars Association (CSSA) funded the officials' trip. But a representative of the CSSA told
Metro Times
via a WSU press officer that the Troy-based developer behind the project gave his group the money for the trip.
In other words, International Village's developer is paying for city officials to travel to China.
That's a problem because emails obtained by the
Metro Times
show that city attorney John Barr told Ypsilanti City Council members and other city staff that it would be "unethical and illegal" for the developer to pay for the trip.
If the students' claim is true, then it would appear that the developer used the CSSA to circumvent local laws.
In another twist, Ypsilanti city manager Darwin McClary told
Metro Times
on Wednesday that the trip was actually paid for by the Chinese consulate in Chicago.
If his claim is true, then it's not the developer who funded the city officials' trip, but the Chinese government.
When asked via email whether the public and other city officials should have been informed that the Chinese government funded the trip, McClary only replied that "the city will review the matter further."
At this point it's not clear who paid for the trip, and Ernat and Edmonds, two of the officials in China, did not respond to emails requesting comment.
The revelation is leading to questions about the trip's legality, ethical violations, and whether the developer in a deal already mired in controversy for other reasons can be trusted going forward.
"It's very disappointing to learn the trip to China wasn't properly vetted," councilmember Brian Robb tells
Metro Times
. "The optics of a trip occurring two days after the vote [to approve the sale of land to the developer] weren't very good to begin with. This only confirms our worst fears and raises a whole new set of questions."
The proposed project and trip
Amy Xue Foster, the Troy-based, Chinese-American developer behind International Village, proposed the development to the city in May. At its May 23 meeting, council approved a letter of intent to sell 30 acres of the vacant city-owned Water Street property just east of its downtown to Xue Foster's company, International Village LLC. That letter included a 120-day period of due diligence, which expired on Sept. 23.
If built, the development will offer 1,600 bedrooms in buildings that are up to six stories. Plans also call for plazas, restaurants, offices, a supermarket, and a transit node, the sum of which would create a "regional focal point for Eastern culture, Eastern cuisine, Eastern customs, and Eastern living," as International Village's builder, Saginaw-based Spence Brothers, put it.
In May, Xue Foster suggested that, as part of the due diligence process, council members and other city officials visit China to see the architecture after which International Village would be modeled.

The trip was also later presented as a chance for city officials to sell the project to Chinese investors. Around 40 percent of International Village
will be funded through the controversial federal EB-5 Visa Program
.
City officials considered accepting the trip, but city attorney Barr wrote in a May 24 email obtained by
Metro Times
that accepting the trip would be unethical and illegal.
"Members of city council have traveled overseas in the past, but only at their own cost," Barr wrote. "If a city employee or mayor or council member wanted to go to China, it would be OK if they paid for it themselves, but if the developer paid, it would be unethical and illegal under the city code."
The city code to which Barr referred – Sec. 46-75. Offering gifts, loans, contributions, etc., for influence – was included in the memo.
Council member Dan Vogt, who is a private attorney (though he does not practice municipal law), wrote in response, "I agree it would not be ethical if they or someone on their behalf paid. I also am not clear why it would be useful."
The issue appeared settled, but on Sept. 11 economic development director Ernat sent out an email to council members and staff notifying them that the WSU student organization would fund the trip, and it was booked for Sept. 21 through Oct. 2.
"After talking with other agencies about funding opportunities, staff was contacted by Wayne State's Chinese Students and Scholars Association asking how they could assist in facilitating travel," Ernat wrote in the email. "The CSSA determined that they would provide four full scholarships to the city of Ypsilanti for the purposes of traveling to China."
It's unclear how much the trip costs. But roundtrip tickets quoted for a comparable timeframe on travel sites averaged around $900 per person, while packages that include hotel can range from $1,500 to $8,000 per person, depending on multiple variables. That doesn't include meals, transportation, or other expenses.
On Sept. 19, with the 120-day due diligence period about to expire, the council was to vote on a purchase agreement to sell the city-owned property to Xue's company, International Village LLC. With the travel tickets in hand, council approved the measure by 4-1 vote. Council members Robb and Peter Murdock abstained, while council member Lois Richardson voted against it. Mayor Edmonds, mayor pro-tem Brown, Vogt, and council member Beth Bashert voted in favor.
Funding the trip
University student groups typically raise money through events like car washes or bake sales to fund low-stakes campus events. So the announcement that the CSSA planned to pay for four "scholarships" for city officials to travel to China to help close on a $300 million, Chinese-funded development raised suspicions.
There's also little public information on the group or the developer, Xue Foster. WSU's website shows evidence of the CSSA's existence, but the group's own site and Facebook page are both down.
That prompted a Sept. 18 email from
Metro Times
to WSU press officer Matt Lockwood. It inquired about the CSSA's status and how it receives funds. Lockwood says that the CSSA is a university-sanctioned group, and it has two bank accounts, both of which are, and have been, nearly empty for several years.
During a Sept. 20 phone call, David Strauss, WSU's dean of students, confirmed that the CSSA had no money in its accounts.
"We checked both accounts for this organization. They do not have the funds that they would have to have to pay for this kind of travel. Historically ... there wasn't a big deposit, or withdrawal, either," he told
Metro Times
.
Strauss adds that student groups aren't required to keep all funds in university accounts, and the university doesn't closely monitor groups' financial activities. He characterizes his office as "more of a resource for them."
Strauss adds that WSU has "many religious and cultural and social justice organizations, and many of them connect themselves with local communities." So the group had not broken any WSU rules, and does not appear to have been involved with moving funds for the project, Strauss says.
Metro Times
then asked Lockwood to connect us with the student group because there is no contact information for it on WSU's website or elsewhere. He wrote in a Sept. 22 email to
Metro Times
that a representative of the CSSA explained to him that the CSSA "was approached by International Village, LLC to help with a cultural exchange."
"The student group agreed to purchase airline tickets for the trip with money from the company, and assist in providing some volunteers to help with the cultural exchange because the group's goal is to teach people about Chinese culture," Lockwood wrote in the email. "He said at the time they were approached that they were not aware of the [International Village] project in Ypsilanti."
It appears that Xue Foster's International Village LLC used the unwitting student group as a means to circumvent the local laws that bar developers from paying for city officials' travel expenses.
What's next
On Tuesday, Sept. 26, city manager McClary told
Metro Times
that the student group hadn't funded the trip — the Chinese consulate in Chicago provided the money.
He confirmed that in an email to city council on Sept. 27, according to council member Murdock.
Murdock wrote on Facebook, "In an email today, city manager Darwin McClary revealed that although his office was not involved in any of the arrangements for this trip, it seems that the Chinese Consulate in Chicago was the source of the funds to the Wayne State Chinese student association that funded the trip to China for four city staff and council members. The government funds went directly to the International Village developers to funnel to the student group."
Xue Foster did not respond to calls and emails requesting comment.
When asked whether the public and other council members should have been informed of the Chinese government's involvement, McClary told
Metro Times
that the city was gathering more information.
City attorney Barr also said he didn't have enough information to issue a statement, or offer an idea of what's next.
"I looked in my files and do not have anything about the China scholarship, except a notice that it had been granted. I will not have any information until the folks get back from China and so cannot comment on the matter, except that the city of Ypsilanti is committed to doing the right thing," he wrote in an email.
As of now, a purchase agreement for the city to sell the land to the developer has been approved, but the city and development team must next settle on a development agreement. City Council is expected to vote on that in December.
What happens in the meantime for the
already-controversial project
will depend on the fallout. The city's residents already engaged in an intense debate over concerns about how the development could impact already skyrocketing rents, and council members expressed some surprise and frustration over the developers' announcement that she would seek tax breaks. The latest questions add another layer to the debate.
Council member Bashert, who supported the purchase agreement, could not be reached. Murdock, who previously voiced concerns with the project and abstained from voting on the purchase agreement, expressed frustration with the new situation in a Sept. 26 email to
Metro Times
.
"Seems that we sent four city representatives on a wine and dine junket paid for by the [International Village] developer or their agent. A trip scheduled prior to city council approving the purchase agreement and without fully revealing the source of funding. This is not good," Murdock says.