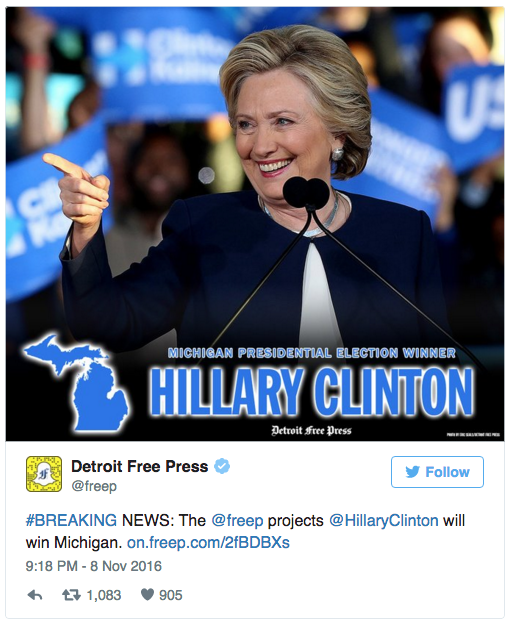 The
Free Press
called the state of Michigan early — and almost certainly erroneously
— for Democratic presidential candidate Hillary Clinton.
As of 9:18 p.m. last night, when only 18 percent of the vote was counted, the paper called the state officially for Clinton.
In the cold, clear light of this morning, that decision looks has got to make some Freepsters feel worse than a hangover fueled by cheap election night champagne.
Tim Kiska's the guy responsible for predictions over at the
Free Press
, and he's same guy who predicted Kwame would win in an upset in 2005. Given his successful run, he has generally been a reliable crystal ball guy at election time.

So what's with calling the state wrong so early in the night based on incomplete data?
Well, first of all, Kiska's models have worked fine in the past.
As CBS Detroit summed it up
, "Sixty-five of 80 'key precincts' analyzed by the
Free Press
showed Clinton holding a 4-percentage point lead, less than a point behind President Barack Obama's margin of victory in those same precincts four years ago."
Secondly, states get called all the time on flimsy data. You only have to eat a slice of humble pie when you're wrong.
That's the vibe we get from the Freep this morning. We've been trying to reach them for comment since 3:38 a.m., but their web staff was reluctant to make a statement since so much of Wayne County remained uncounted. We were told that if Clinton loses Michigan, they'll offer an official statement.

Comments to
a video posted on the newspaper's Facebook page
ranged from partisan ridicule to more decorous implications that perhaps the newspaper's editorial posture had colored its predictions.
If it helps console anybody who popped a cork to celebrate prematurely,
the Freep now says
: "While Trump had a narrow lead in Michigan and it appeared he could win the state, the
Free Press
had earlier projected Clinton the winner based on election results data collected from key precincts across the state. Earlier Wednesday morning,
Free Press
election analyst Tim Kiska was standing by the projection that Clinton would win Michigan."
We're sure a lot of nail-biting readers wish they'd been as circumspect earlier in the night.