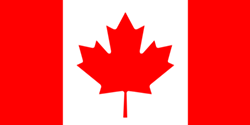 Today, half the country is celebrating, while the other lives in real fear of what the next four years holds.
It seems the latter half might be — or at least attempting to — carry out their promise to move to Canada if the Republican nominee were to win.
Last night, Canada's immigration site crashed after being swarmed by visitors seeking immigration information.
The site's up now
, and people can find information, whether they're serious about their inquiry or not. You'll have to apply for permanent residency, and while there are different types of citizenship, most insist that people come for work or live there with their family.
Perhaps equally as important, was Canada's epic Twitter clapback to the news of Trump's win.
In Canada, immigrants are encouraged to bring their cultural traditions with them and share them with their fellow citizens. pic.twitter.com/MOuStZbSX7

— Canada (@Canada) November 9, 2016