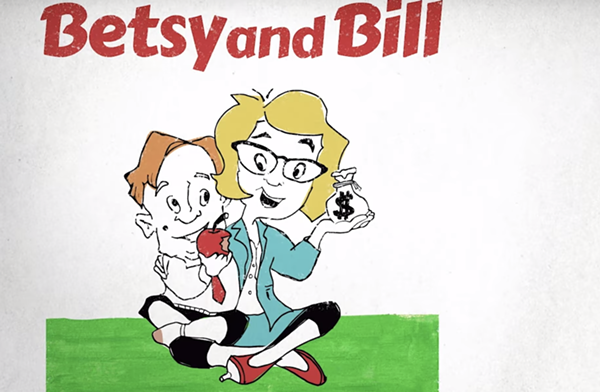 File this one under "not shocking" and "rats in cahoots" — it seems Betsy DeVos and her family is banking heavily on Michigan Attorney General Bill Schuette in his bid to be Michigan's next governor.
Progress Michigan
recently noted the financial link between the billionaire U.S. Education Secretary, her family's organizations, and Schuette. That information was first published on the
Michigan Campaign Finance Network's site
.
As is well-documented, Schuette and DeVos are far right wing, anti-immigrant,
teacher union busting
proponents of the corporate agenda.
DeVos recently suggested schools should
call ICE on kids they suspected of being in the country illegally
; killed policies designed to address rampant campus sexual abuse;
cut back on civil rights investigations
that protect students; rolled back consumer protections for student loan borrowers; and uses
public money to support private schools
.
Similarly, Schuette led the charge against legalizing gay marriage,
a case he lost
; wants
to hand taxpayer money to private schools
;
fought to keep money from teachers
that courts ruled was rightfully theirs; and
argued that kids don't have a constitutional right to literacy
.
Birds of a feather, indeed.
Progress Michigan
also had some fun with the pair by developing
a children's book
and
website
called
Scary Story Time: Betsy and Bill.
The site "details the relationship between Betsy and Bill, and how they have used their positions of power to influence education policy at both the state and national level to the detriment of Michigan's students, teachers, and families." The book — well, it does the same, but with a few more laughs.
Stay on top of Detroit news and views. Sign up for our weekly issue newsletter delivered each Wednesday.