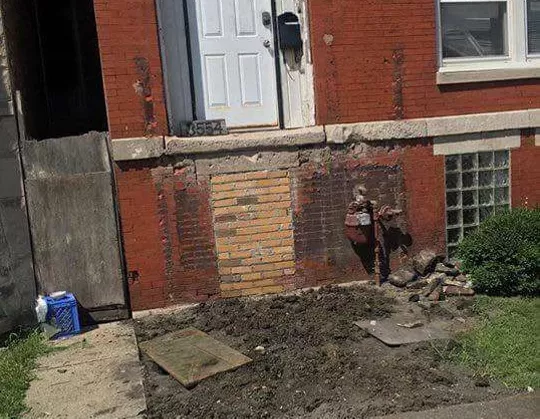 Updated 9:21 a.m. on Tuesday, June 5:

Silva came clean Monday afternoon, admitting to Metro Times that the photo was a joke, saying, "I did it all out of laughs to entertain social media."

Originally posted 10:56 a.m. on Monday, June 4:

This is why we can't have nice things, er, things. You know, basic things like a front porch.

Like most folks, Detroit resident Antonio Silva woke up on the morning of Wednesday, May 30 to embark on what should have been a typical day. It's likely that Silva ran through his internal checklist — keys, phone, wallet, sunglasses. Little did he know that he would walk out of his front door and literally fall into viral stardom.

Perhaps the most Detroit thing to ever happen, apparently someone had stolen Silva's front porch. Not something off the front porch, like a decorative planter, but the whole fucking porch. In a post that has since gone viral, a photo reveals that Silva's brick stoop and stairs had been ripped from the facade of his home leaving a five-foot drop, a plot of dirt, and about a billion unanswered questions. For starters, why? Or better yet, how?


"I've been doing this a long time and I've never heard of anything like this," Casey Thebolt of
Metro Detroit Masonry
says when we called for comment. "Am I being pranked?"
To remove a porch, Thebolt says the three-step process is time-consuming and very loud.
"You've got steps, a concrete slab or pavers stone, and the brick walls on the side for support," he says. "
Depending on the condition of the slab, they would have to break it up with a sledgehammer, or jackhammer. A job like that could not have been done without an incredible amount of noise."


As to why someone would do this, well, Thebolt, like the rest of us, has no fucking clue.
"It would be garbage. You can't resell those materials. I guess someone might do it out of spite or a personal vendetta against the homeowner. There's no reason why you would take that risk."
Silva, better known as Head Honcho, has received interview requests from
Buzzfeed
and
UNILAD
. His Facebook post has been shared over 30,000 times, including a notable share by Detroit's own
Tee Grizzley
with the caption "Welcome to Detroit."
It is possible, though, that Silva is pulling one over on us as a
similar post made the meme rounds last year
(same joke, different city) and could be a photo of one of Detroit's many homes in disrepair. In a follow-up post he said that he has received a lot of attention about his porch and added a string of laughing emojis and "#Viral Where's my check
yaBatch
"
Silva has not returned
Metro Times'
request for comment but we hope he is adjusting to his
porchless
life/viral status one step at a time.

Stay on top of Detroit news and views. Sign up for our weekly issue
newsletter
delivered each Wednesday.