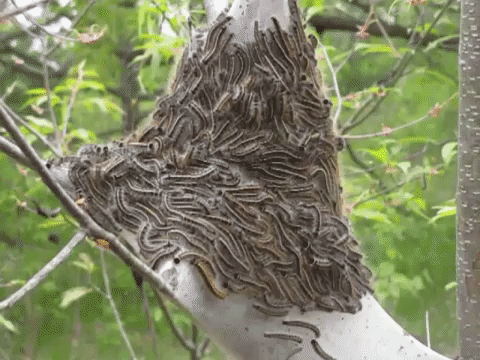 Heading up to mid-Michigan last month, we noticed that some of the state's most unwelcome residents were out in force: forest tent caterpillars. The little creepy crawly critters, when gathered in a mass on one of their silky constructions, can send shivers down the spine on even the warmest summer day. It's enough to make you want to carry a Bernzomatic torch on your walk through the woods.
But before you do anything rash, Michigan's Department of Natural Resources counsels awareness over fear. Here are the facts:
Q: Are forest tent caterpillars an invasive species?
A: No, they are native to Michigan.

Q: Why do they seem out of control in parts of Michigan this year?
A: Caterpillar populations have been observed to crest in cycles of 10 to 15 years, and then take two to three years to come back under control. In some parts of Michigan, the outbreak has already been under way for a year or two.

Q: What finally brings them under control again?
A: Though traps and other human-made controls probably help, it's mostly natural diseases, predators and parasites, that fell the little fellers, including the large, slow-moving "friendly fly," which lays its eggs on caterpillar cocoons, preventing them from developing into adult moths.

Q: How much damage do they do before populations diminish?
A: They consume the leaves of such trees as sugar maple, aspen and oak, leaving a trail of unsightly webbing as they go. Scott Lint, a forest health specialist with the state DNR, says that an infestation of forest tent caterpillars rarely is fatal unless a tree has other stresses.

Q: If I see silk on a branch, does it definitely mean its an outpost of the forest tent caterpillar?
A: No, sometimes it's the eastern tent caterpillar, which builds tents in black cherry, apple and other fruit trees. Eastern tent caterpillars are dark-colored with a light-colored stripe, rather than dots, whereas forest tent caterpillars are dark-colored with pale spots.

Q: I'm a property owner whose beloved trees are under assault. What should I do?
A: If your trees that have been heavily defoliated, ease the stress they're under by ensuring they receive at least one inch of water per week during the growing season. In the fall, you might apply a slow-release tree fertilizer to help them recover quickly in the coming year.
Stay on top of Detroit news and views. Sign up for our weekly issue newsletter delivered each Wednesday.