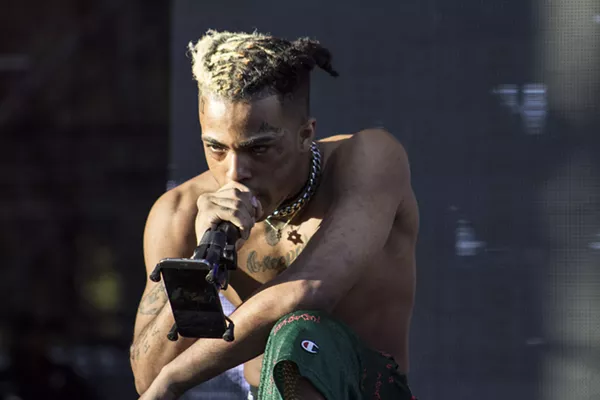 19 year-old experimental rap artist Jahseh Onfroy, better known by his name XXXTentacion, was released from prison just over two months ago on charges stemming from a domestic dispute. But it was during his last few weeks locked up that one of his songs soared to the top of Soundcloud's charts. Onfroy, now one of the streaming site's biggest successes, has quickly become one of the most enigmatic talents.

Onfroy's music all originally debuted on Soundcloud. It has a low production quality which only adds credibility to his music's authenticity, which speaks of the teenager's violent history, family issues, and Florida upbringing.
His most popular track to date, "Look at Me" a jarring trap hit with punk musings, earned the respect of rappers like Drake (who then released an undeniably similar song "KMT" from his latest album) and A$AP Rocky—who joined him onstage at the Rolling Loud music festival.
But it's his melodramatic and atmospheric music that has enthralled fans for months now. Onfroy has credited his obsession with music, from classic rap to Japanese anime themes, which led him to create a unique range of songs.
Some of his music includes the angry "#ImSippinTeaInYoHood"
another aggressive song that shocks then soothes. On the weepy "King," everything sounds manufactured except his barely-there voice.
Since his release, Onfroy's music has gained serious recognition. But it's still rather hard to find, there are plenty of staple tracks on his Soundcloud, which is still live, and on his own channel on YouTube where he regularly releases new music. And it's his fans who archive the songs he's released and then deleted. On YouTube, this relationship between Onfroy's fanbase and his music has created noticeable rifts.
His die-hard fans celebrate Onfroy's, dreamy cinematic stylings in "Never" a modern ballad, while his newest fans could make him more reliant on tracks like "Take a Step Back," another offensive song by his friend and rapper Ski Mask "The Slump God".
The apparent naiveté and (one assumes) his fear-filled youth come out in his ode to a character on the cartoon Bob's Burgers. "A Message to Tina Blecher" is presented as a harrowing conversation with himself. Onfroy is uninhibited as he rambles off life's questions over distant vocals. But it's Onfroy's stylistic sophistication on his most complete track "Tightrope" that hints that Onfroy has only scratched the surface of his abilities as a creator.
Onfroy has got serious talent and refreshing originality, and he's committed to focusing on music but hasn't shaken his past completely. Since the beginning of his tour, a string of violent incidents has plagued nearly all of his shows.
The latest incident earlier this month began with Onfroy being assaulted on stage, and ended with a stabbing amidst the chaos. The Florida teen hasn't let up and continues to tour across the country, this Thursday, June 22 he will perform at the Majestic Theater as a part of his Revenge Tour.
XXXTentacion has made it clear he's not taking orders from anyone about his music but what he currently lacks in cohesion he gains in honesty. His candor seeps into his music, which doesn't dare to be defined and into who he is, which isn't quite clear either.