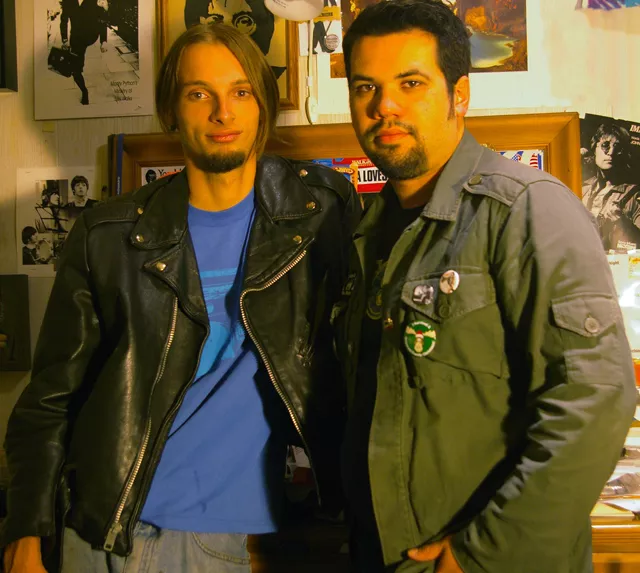 The Fuzz plays Saturday, Oct. 20, at the New Dodge Lounge, 8850 Joseph Campau, Hamtramck; 313-874-5963; with Amateur Anthropologist.
Seeing as the Fuzz is a garage rock duo from Detroit, the White Stripes comparisons are going to be inevitable — so let's get that out of the way at the very beginning. To be fair, there are sonic similarities that make a comparison between the two bands valid. Both soak in blues influences, both favor rudimentary musicianship mixed with "feel" over technical wizardry, even though there is some skill within both ranks. However, while Jack and Meg were the coolest of the cool, the king and queen of garage rock hipster-ville, Todd Bruhnsen (guitar, vocals) and Jason Bombach (drums, backing vocals), both 24, are the living, breathing definition of "everyman."
That is by no means meant as an insult, it is simply a fact that these are two young men that you could see anywhere and everywhere. Indeed, Bombach works at 7-Eleven, and he says with some pride that he's been robbed at gunpoint three times in the past month while at work. "The last time, I offered him a bag," Bombach says. "He thought I was kidding and threatened to shoot me, but it was a lot of money and I wanted him out of there. The police in Livonia know me well now."
"I would group us as nerds," Bruhnsen says. "But personally, I am able to get along with everybody. I could get along with all the different groups [from jocks to goths], but I wasn't necessarily close friends with them at school. I was in choir and band, so I knew other people sort of outside of that group. Believe it or not, there are a lot of hot popular girls in choir."
Bruhnsen and Bombach have been making music together in one form or another since high school. "We should be a lot better," Bombach says dryly.
"It's been about 10 years that we've been playing together," Bruhnsen says. "We had a fake band, if you will, before this. I called Jason up one day and said, 'Let's forget the third guy and just do a garage rock group.' I had recorded a song that was in that vein, and I played it for Jason saying that I want the band to sound like this. Our agreement was that if we do this I would let him mix everything, because he knows how to mix a lot louder than I tend to mix."
The two guys are immense fun to sit with. They're also very different. Bombach, aesthetically, is the typically geeky metal-head from college (in fact, this writer basically was Bombach in college): long hair with no real shape, a fruitless attempt at facial hair, and an unhealthy obsession with the game Risk, Bombach is also very likable. There are a million store clerks with dreams of making their band into something bigger. This guy happens to have the talent to give it a real shot. Bruhnsen is more conventional in appearance, but he has a brooding quality that makes him a perfect partner in grime for Bombach.
The two men would love to make a career out of the Fuzz, though their ambitions are relatively humble. "I think it would be cool to get some sort of following, even just here in Detroit," Bruhnsen says. "Jason wants to get what he calls 'Frank Zappa famous' — which is famous among musicians, but not necessarily famous to the general public."
"I want to be able to go to the grocery store while being a respected musician," Bombach says. "That's my only goal in my whole life. I'm not trying to prove anything, I'm just trying to pay bills without working at 7-Eleven."
The Fuzz recorded its recent album, The Sting, before the EP Peach Fuzz, though it is the EP that surfaced first. Both are fantastic — dirty and raw, with just the right amount of tuneful melody to make the songs hummable. The second album is already in the works. "The new stuff we're recording, my grandma went out of town so we used her house," Bombach says. "We experimented there."
"We experimented musically, in her house," Bruhnsen says. "Just to clarify."
Yep, there is a very important distinction to be made there.
Bombach says that the Fuzz's best show so far was in New York. "I tried to live there once, so I made some friends there," he says. "We played at Don Pedro's in Brooklyn. A bunch of people showed up, the bands were great and we actually got paid, so it was great. We played 'Kick Out the Jams,' and that went into 'I Wanna Be Your Dog.' The sound guy ran into the kitchen and came out with a jar of peanut butter for me to spread on myself. People there love Detroit bands."
It is true: From England to Australia and across the United States, the word "Detroit" remains synonymous with quality music. It's like stamping "Angus" on beef. Thankfully, this duo has the quality to back up the city's reputation. Not that they're allowed to have any sort of ego around here. "Our first show was in somebody's backyard and nobody cared," Bruhnsen says. "The first thing we were asked, and it's become a running joke now, is, 'You guys need a bassist?' and then somebody came up to me and said, 'If you ever need a vocalist let me know.' I was like, 'I got it, thanks.' It's a roundabout way of saying, 'I don't like your singing.' Like, thank you."
Bombach describes the Fuzz live experience as loud. "We'll do gimmicks once in a while," he says. "Like, at the New Dodge show that's coming up, if people dress up they get a special CD that we're making. He and I are dressing as our favorite authors. Within the gimmick, we try to make sure we're backing it up with the music. I hate bands that are all gimmick. We'll just play loud and hope people shut up and listen."
Despite the fact that the garage rock heyday in Detroit is long gone, at least in commercial terms, Bombach feels that the band is in the right place. "You have to be tough to make it here," he says."
"We're not actually from the city of Detroit, we're from Westland, a crappy suburb of Detroit," Bruhnsen adds. "Westland is one of the places where you have to drive to Detroit or to Ann Arbor to actually do something. But I do love hanging downtown. The only other big city I've been to that I feel like I might be able to live is Chicago, and that feels a little more dangerous than Detroit at this particular point in time. Detroit's not nearly as bad as people think it is. Downtown Detroit is safer than some of the suburbs."
The Fuzz guys, currently working hard on their next album and preparing for this weekend's show at the New Dodge in Hamtramck, run their own record label, financed by Bombach. On the surface, it might seem a little late for a garage rock band with a "The" in front of the name, but these guys are doing things on their own terms. They'll live or die by their own sword. So where do they see themselves in 10 years' time?
"Music's the only thing I'm good at," Bombach says. "But I'll be dead in 10 years."
Brett Callwood writes City Slang.
Send comments to him at [email protected]