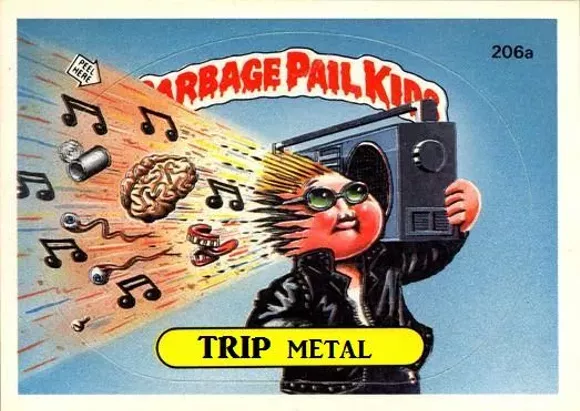 Honestly,
the first annual Trip Metal Fest
, slated to occur across Detroit on Memorial Day weekend, just keeps getting better and better as more is revealed.
Links to purchase tickets to individual events are
here
. Individual shows are $20, while Trinosophes events are $5, and Third Man shows are free.
Three-day passes are available
right here
. They run $75, which will get you in to all of the gigs at El Club, a special poster, the interview events at Trinosophes, one drink ticket, and all related events (with the sole exception of the Everything is Terrible! screening). I know that's some bank, but you'd spend at least that driving to Chicago and back to see just one of these performers on any other weekend.
Today we learn that
Pauline Oliveros
is participating—long distance, and via an interview—but still, she is such a deep practitioner of heavy and heady drone-based zones that this is seriously exciting. It also means that two founding members of the
San Francisco Tape Music Center
will be part of the fest!
And we finally get absolute confirmation that
Marshall Allen
and
Danny Ray Thompson
from the
Sun Ra Arkestra
will perform live with
Hieroglyphic Being
!
And
Andrew WK
will perform with
Nate Young
in a set that will probably be better than AWK's Blowout (RIP) performance of last year; certainly it will be a lot noisier, and
Bulb
-ier.
I adore the interactive, thoroughly plunderphonic collage films of the L.A.-based
Everything Is Terrible!
crew; the fact that there is now also a double set of their work is absolutely the cherry on the top of a lot of other cherries. That event will cost a little bit more money.
And then there's the sweet, late-night dance party at Menjo's; plus stuff that's already been revealed before such as the amazing
Morton Subotnick
,
Tar Pit
,
Viki
and
Magas
,
Viands
,
Sick Llama
,
Rubber (O) Cement
(which is the newer project by Grux from Caroliner!),
Creode
,
Wolf Eyes
, Baltimore's genius person
Lexie Mountain
, and so much more.
This might be the most exciting new festival to hit in Detroit in a dozen years, friends. People are totally going to travel to town for this, so be prepared to fight for parking, or to have to wait another few minutes for your coffee in the morning at Anthology, Trinosophes, or Astro.
The full lineup for Trip Metal Fest #1 is as follows:
★ FRIDAY / MAY 27
EL CLUB – LIVE
Morton Subotnick, Rubber (O) Cement, Andy Ortman, Cotton Museum/Ape Tech Chip, Tar Pit/Jesse & Eels, Traag, MV Carbon
THIRD MAN – SCREENING 5/27
Canyon Cinema's ACID STRIP: Inzane & Fried Alive 16MM Short Films
TRINOSOPHES – TALK 5/27
Morton Subotnick in conversation
MENJO'S OLYMPUS THEATER – AFTER PARTY 5/27
FIT SOUND / EST.83 x TRIP METAL AFTERHOURS w/ DJ Sotofett, Madteo, Stallone The Reducer, Especially Good, Fit Siegel
★ SATURDAY / MAY 28
EL CLUB – LIVE
Hieroglyphic Being + Marshall Allen & Danny Ray Thompson (The Sun Ra Arkestra), Viki + Magas, Drainolith, Pengo, Joseph Hammer, Viands, Sick Llama, Lexie Mountain & Scroll Downers, Pod Blotz
CINEMA DETROIT – SCREENING
Trip Metal Fest presents EVERYTHING IS TERRIBLE (two shows)
TRINOSOPHES – TALK
Hieroglyphic Being in conversation (possibly with Marshall Allens as well)
★ SUNDAY / MAY 29
EL CLUB – LIVE
Wolf Eyes, Andrew WK + Nate Young, Nautical Almanac, DJ Dog Dick, Wooden Highway, Shades, Creode, Brain Transplant
THIRD MAN – SCREENING
Andrew WK & Trip Metal Fest present DESTROYED HISTORY: Trip Metal Vids From the Vaults
TRINOSOPHES – TALK
Telematic Talk with Pauline Oliveros