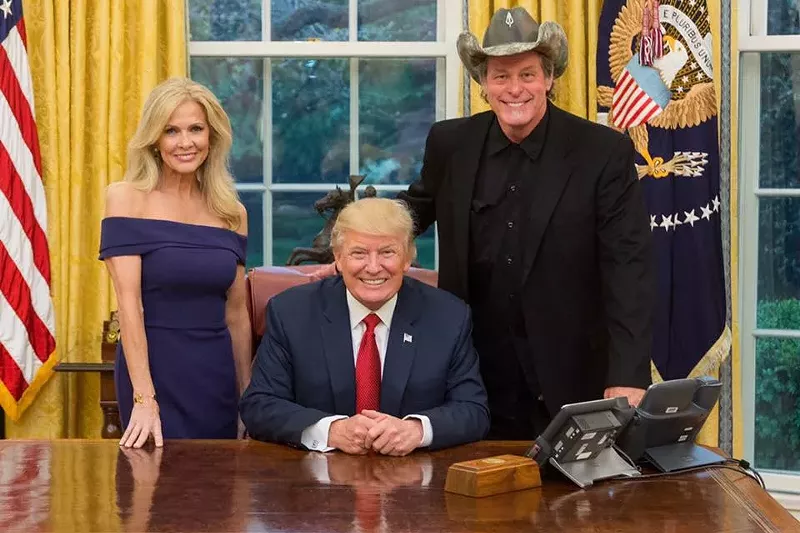 A month after
damning the use of marijuana on a public access roundtable
, it should come as no surprise that native Michigander and right-wing motor mouth Ted Nugent is having a tough week.
Nugent, whose personal Facebook page is a notorious treasure trove of trash, couldn't help but put on his pouty pants after the "blue wave" swept over Michigan during Tuesday's midterm elections.
That's right. Michiganiacs. As in, Michigan plus maniacs. As in,
oh my god
why are we still talking about Ted Nugent in 2018?
Oh, right. The word "shithole" entered the political lexicon earlier this year when President Donald Trump referred to Haiti and African nations as "shithole countries."
As clueless as the Nuge's sentiment may be, what is more abhorrent are his post-election thread's comments, of which there are thousands. While some folks simply empathized with Nugent for having fallen out of love with his home state of Michigan, Nugent supporters and blatant racists dragged Michigan's Rashida Tlaib, who, as of Tuesday, became the first Muslim woman appointed to US Congress (along with Minnesota's Ilhan Omar). Others spouted Nugent-Trump style conspiracy theories, many were upset that Republican nominee for Senate John James failed to unseat Debbie Stabenow, and some tried to convince the Nuge to relocate, mostly to Tennessee, luring him in with things like "we have a Cracker Barrel old country restaurant."

"The disease of progressivism marches on," one commenter wrote.

"Never read the comments" has never been more applicable. But more than that, don't read Ted Nugent's Facebook. Just don't.

Stay on top of Detroit news and views. Sign up for our weekly issue newsletter delivered each Wednesday.