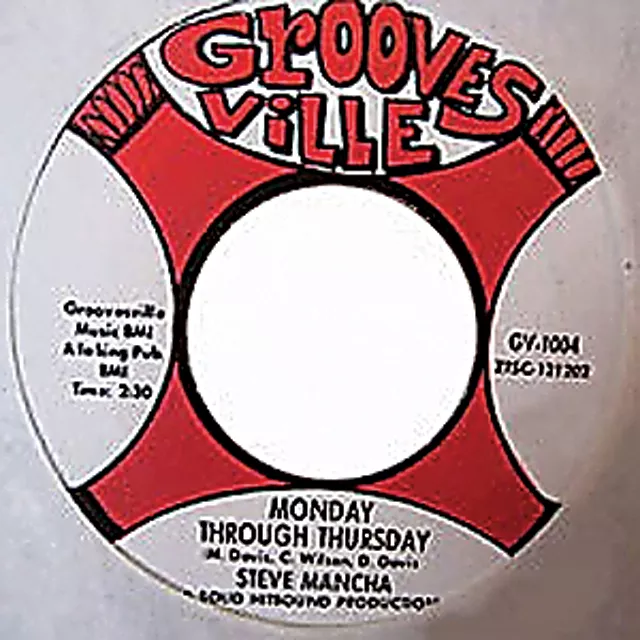 Stars on Stars
Local guitar hero pays tribute to Detroit soul sensation Steve Mancha
Steve Mancha is the stage name for Clyde Wilson, one of the greatest soul singers and songwriters to emerge from Detroit in the 1960s. His may not be a household name, but in soul music circles, he is known as one of the best our town had to offer.
I was first introduced to his name by my friend and fellow music disciple, Matt Weingarden (aka Mr. Fine Wine), back in the days of mixtapes. On one such tape was the song "Just Keep On Loving Me" by Steve Mancha, a midtempo soul number with the most sincerely heartbreaking vocal delivery I had ever heard. In those pre-Internet days, information about our favorite records was scarce.
I later learned that Steve's real name was Clyde Wilson. He played in the Jaywalkers with Melvin Davis, Tony Newton and David Ruffin (Wow! What a band!); he wrote songs for Motown, did a string of singles for Don Davis in the mid-'60s. Songs like "Whirlpool," "Hate Yourself in the Morning," "Did My Baby Call?," "I Don't Want to Lose You," "A Love Like Yours." (Many thanks to our Northern Soul brothers in the UK for keeping these songs alive!)
In the latter part of the '60s, Clyde signed on with Holland-Dozier-Holland's Invictus Records, singing such hits as 100 Proof (Aged In Soul)'s "Someone's Been Sleeping in My Bed" and 8th Day's "She's Not Just Another Woman," both with brilliant McKinley Jackson arrangements. He was part of George Clinton's revolving Parliament cast, delivering the goods on the quintessential Detroit funk "Breakdown" as an uncredited Parliamentarian, as well as "Come in Out of the Rain" on 1970's Osmium LP.
Clyde made some big hits in the '70s, with four gold records to show for it, but H-D-H followed Berry Gordy's assembly-line style of record production and many great artists were disparaged to obscurity by anonymity. Much like the Funk Brothers, Clyde never got the fame or fortune he deserved.
Clyde Wilson, 69, was born in South Carolina on Christmas Day 1941, grew up in the West Grand Boulevard-Grand River Avenue neighborhood of Detroit and lived for many years on the near west side.
He died at 4:08 p.m. Jan. 8, 2011, at Henry Ford Hospital in Detroit, after suffering several years of declining health due to a stroke and heart attack.
He's in a better place, and his music and his memory live on. —Jeff Meier, musician, Detroit

FRIGHT FROM THE BINS
Happiness is ... Up Up and Away with the Happy Hits of Today!
(Reader's Digest, 1970)
I would give half of what little I own to have been in the offices of Reader's Digest in 1970 when this nine-LP (!) set of "pleasure programmed" music was cooked up. If only to witness the marketing panache at work when they arrived at the most long-winded album title not associated with an ELP live set:
"Look gents, if we title this collection Happiness Is, we're sure to get the Peanuts and Snoopy crowd. It'll make Grandma and Grandpa seem hip to the teens, and if we add Up Up and Away, we'll get fans of both Superman and the Fifth Dimension!"
"'Up Up and Away'? That song's three years old already! Forget it!"
"Look, Jerry, Up Up and Away stays in the title or I gotta answer to Benny Goodman's people! That old sumbitch was good enough to record that and 'Spinning Wheel' for scale!"
"What about 'happy'? It's gotta have 'happy' in the title. We can't have our codger customer base getting too upset. This is 'pleasure programming' we're talking here."
"Don't worry, fellas, I got a title that'll make all of us happy. Especially the old-timers. Oh, by the way, how did we handle that scary orchestral buildup in 'A Day in the Life'?"
"Joe Reisman and the Orchestra agreed to just skip that bit completely and get to the cheerful 'woke up, fell out of bed' part."
"Good! Good! Just as long as they made falling out of bed sound 'happy.' Then we'll save ourselves a couple of lawsuits."
"So what do you want to do about this crazy big band version of "Sunshine of Your Love"? Sounds like the reed players smoked a little too much Mary Jane."
"Well, just bury it on side 17. Believe me, these fogies will never even get to it."
Judging by the many Happiness Is ... sets found in pristine condition at a thrift shop near you, the elderly folk who ordered them probably died even before the 4 to 6 weeks shipping wait came to pass. Check your copy to make sure it includes six postage paid (and yes, unused) order forms to "let your friends and relatives enjoy Happiness Is." If only to prove to yourself that you can't force someone to be happy. —Serene Dominic
SCHOOLYARD VERSE
When I rap along
with Gucci Mane
I feel like a red
tiger that is driving
a bugatti counting money
doing the teach me how to dougie.
I want to hear a
song that sounds like
a rainforest with
all the animals
having a party.
— Marcus May, 6th Grade, InsideOut Literary Arts Project

DOWNLOAD OF THE WEEK
John Holk & the Sequins — "If You See Her"
After years playing country-pop about town, John Holk & the Sequins have emerged with a new LP. The cowboy hat and sequined jacket remain, but some songs come from the jangly, melodic, Hollies end of pop, including this feel-good title track. —Michael Jackman