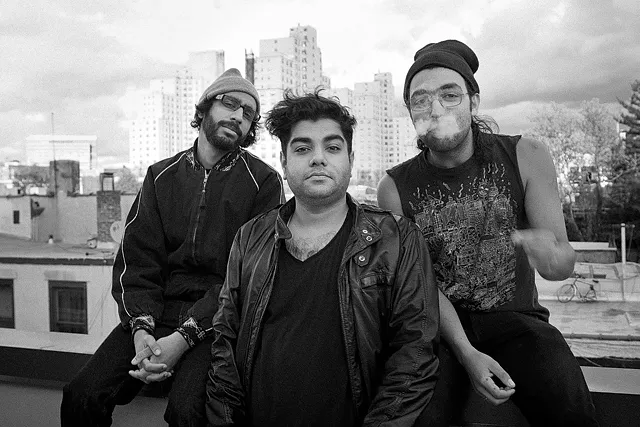 Hip-hop of today is increasingly becoming a parody of its former self. Any fans from the pre-hip pop years might agree that much of what's common on the radio these days is almost, well, a joke. So it shouldn't be surprising that a group of former college friends who met at Wesleyan University were sharp enough to pen witty rhymes that hit like comedy punch lines yet were good enough to be taken seriously. That's not easy to do, but the trio of New York rappers known to the world as Das Racist have spent the past two years using hilariously whip-smart humor and abrasive personalities to win over Internet audiences and music critics alike.
Every major music outlet of merit, from Rolling Stone to The New York Times to MTV, has bestowed love upon them, and the storyline is often the same: a group of politically astute, college-educated joke rappers are managing to turn the hip-hop world on its head. In part, those story angles are mostly correct. Emcees Himanshu (Heems) Suri and Victor Vazquez consistently craft stanzas that can reference everyone from Edward Said to 13th century poet Rumi (even in the same song) and challenge race, racism and class in both subtle and obnoxious ways. Throw in the high-IQ hypeman of the trio, Ashok Kondabolu, aka Dap — whose older brother, Hari Kondabolu, actually is a professional comedian who also challenges race — and you get a group of rather hairy brown kids that shock the shit out of their white fan base yet seem like clever rap heroes to certain audiences of color. For the record, both Kondabolu and Suri are of South Asian descent and were raised in Queens by parents born in India while Vazquez is Afro-Cuban and European and was raised in the Bay Area of California.
What's helped Das Racist's material — released on a pair of 2010 free mixtapes, Sit Down, Man and Shut Up, Dude — proliferate among certain sectors of the Internet masses is that they consistently find comical, powerful ways to speak the truth.
And they typically do so over increasingly left-of-center, hip-hop and club beats. At the majority of their shows, you can see packed, sweaty dance floors in venues well over capacity swarming with twentysomethings, many of whom are white, immigrant or first-generation American hipsters, whether they like to admit it or not, losing their senses and going ape-shit to heavy, synth-driven beats. Meanwhile Das Racist will be on stage, usually drunk, spitting lyrics like: "Really though, frat dudes are like Juggalos/ underrated in the game like Mark Ruffalo." Or getting girls to dance on stage during party raps while challenging privilege and sexism at the same time. It's an odd juxtaposition you have to see in person to fully understand, and it makes Das Racist all that much more uncomfortably enjoyable to watch. What's often not mentioned about the group is that, despite having slightly dickish personalities while they're entertaining, off stage they're genuinely the nicest dudes you'd ever meet; they drink tea incessantly, prefer shopping at thrift stores, and are the kings of creating inside jokes.
Interestingly enough, the group's music and media buzz recently helped land them a tour in Asia (China and South Korea specifically) and all across Europe at the end of last year. It was a blitzkrieg trip that unfortunately saw the Brooklyn-based trio being denied entry to the U.K. for reasons that one can speculate had to do with their politics — but were officially listed as "improper paperwork." Now that they're back on this side of the planet, we checked in with Das Racist while they were just getting back from a gig in Puerto Rico.
Metro Times: You guys just got back from touring on the other side of the world, and you practice a black art form, yet you didn't go to Africa. Why?
Victor Vazquez: Rich African club bookers don't think we're worth the money. Fair enough.
Himanshu Suri: No one flew us out. You think I don't want to play in Uganda and complain about them kicking us out?
MT: What was the most comical bit of racism you all faced while on tour?
Ashok Kondabolu: Frankfurt was full of loathsome German assholes!
Vazquez: An airport employee in Frankfurt suggesting that Dap preferred blond women to black women.
MT: What's the most racist thing that you all did while on tour whether inadvertently or on purpose?
Vazquez: Making a song called "Tarzan" with a Chinese dude.
MT: You make music that got hugely popular via the digital age, yet you've gone on record not speaking very highly of Kindles. Explain.
Suri: Kindles are white demon technology.
Kondabolu: After using an iPad for the first time in San Francisco two months ago, I'm going to repent. Power to all tablet technologies!
MT: If Jay-Z asked you to join the Illuminati along with his good friends Kanye, Rihanna, and Lady Gaga, would you join?
Vazquez: I would join to see what all the fuss was about ... as long as I didn't have to kill a baby.
Suri: I'd kill a baby to join, whether they asked me to or not.
Kondabolu: Without a doubt!
MT: The Black Lips (racist?) got run out of India in 2009 for stripping naked, making out with each other on stage, and basically having no regard for local customs while on tour. Were you ever worried you might get run out of China?
Vazquez: Black Lips probably are racist, but in a fun way. In China they told us we couldn't mention Tibet, Taiwan or Falun Gong on stage. They didn't say anything about Liu Xiaobo though. I was actually meaning to shout him out on stage but I could never remember his name because I'm an idiot.
Suri: I constantly worry about everything. I thought there were Chinese cops all over every hotel we were staying (and smoking) in. I was sure Victor would do that thing where he does whatever he's told not to like Tracy Morgan, Jordan on 30 Rock. I definitely thought he would mention Taiwan, Tibet and Falun Gong. I was worried about North Korean-South Korean relations. I was worried about getting pickpocketed. I was worried drinking things with ice in it or tap water. But don't get it twisted, I'm awesome.
Dap: I was actually wildly comfortable and content in Beijing. Peace to the people of Beijing.
MT: Who is your favorite music figure from Detroit of all time?
Vazquez: Is Berry Gordy too obvious? Stevie Wonder? Iggy Pop? Dilla? Hella fools.
Himanshu: Dilla.
Kondabolu: Too many to name! Shout outs to Danny Brown!
Das Racist performs on Thursday, Jan. 20, with Danny Brown and Mobil; 8 p.m. $12-$14; all ages.