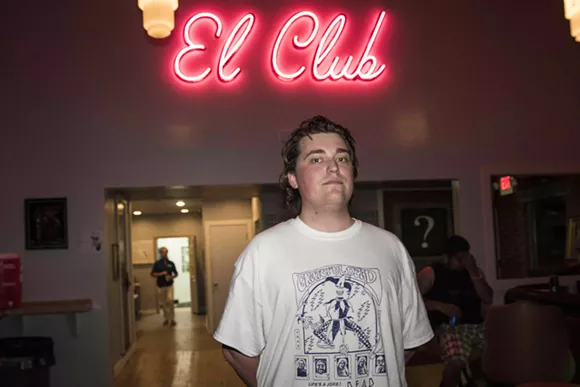 Detroit's hottest new club is El Club, and it has everything: ice sculptures, clones, freaks, mole people, a Russian man on a prepaid cell phone, a sheepdog that looks like Bruce Vilanch, and a wise old turtle that looks like Quincy Jones...

Wait — that can't be right. I've been watching too many reruns of Stefon on Saturday Night Live. Fortunately for us, Detroit's newest spot El Club opened its doors last month and has been churning out some amazing concert announcements and shows, and is attracting a wide audience of metro Detroiters. Just look at who has performed in less than two months: Mountains and Rainbows, Chelsea Wolfe, Trip Metal Fest (more on that later), Sun O))), and other odd and interesting artists that you would normally not get to see in the Detroit market.

That's why booker extraordinaire Virginia Benson was recruited by club owner Graeme Flegenheimer. Benson has booked for some of our other favorite places, such as Marble Bar and the UFO Factory, but El Club presents new opportunities for her to bring acts to the city.
"We're in the middle of two really big markets — Chicago and Toronto — so Detroit gets skipped over a lot when people are touring. We're hopefully going to change that," Benson said when we visited the club several weeks ago during last-minute renovations before opening.
And Benson is completely right. It's not only hard to convince smaller, unknown bands to play in Detroit, but it's even difficult to get national touring acts to stop and play here. Time and again, metro Detroiters have had to go to Chicago to see artists because they hopped over Detroit. Benson says Detroit has a small but very devoted music scene, and that she's hoping that El Club will be a place where artists will actually want to play.

And what about El Club's owner and mastermind, Graeme Flegenheimer? After owning his own PR firm at a very young age, he renovated and opened a new club in the Highland Park section of Los Angeles called the Church on York. In a great LA Weekly piece about Flegenheimer and the space, they noted that the nickname "Baby Gatsby" has followed him around.

Now 24, Flegenheimer is opening his second club, and chose Detroit specifically. The comeback narrative initially interested him when choosing a location for a new club where he could make his ideas manifest. Choosing to be in Mexicantown was also intentional, since he felt the neighborhood lacked an all-ages venue.
"The neighborhood itself has so much personality and potential so I thought it was the perfect spot for a new venue," Flegenheimer says.
The venue — located right on Vernor Highway — is a former club, and Flegenheimer is completely renovating the space for a hip, new audience. He's restored much of the interior and exterior of the building, installed a state-of-the-art light and sound system (he brags that there isn't a better sound system in the city), and added a beautiful green room that is complete with a shower and a wood-burning pizza oven from Italy. The back yard of the club has been touched up with gorgeous murals done by some friends of Flegenheimer's who hail from Miami and Los Angeles. Flegenheimer has the money and resources, so why not make it the best that it can be?
There seems to be one issue that he has been facing since it was announced that he was going to renovate the club.
"I generally got some shit from people in the neighborhood that I'm doing the whole 'white boy gentrification' thing," Flegenheimer says, taking a hit from his cigarette.
The criticism is understandable when he is a white guy with lots of money and is renovating a building in a Latino neighborhood, but Flegenheimer doesn't see it this way. He says he's essentially bringing a new audience that normally wouldn't get to experience all of the great things that Mexicantown has to offer.
He is also fully aware that he is living and working in a town with a strong and proud Latino heritage, so the club has been promoting Latin nights. On June 23, El Club held a salsa night that featured music from DJ Cisco, dance lessons from award-winning salsa dancer Andres "Malgia," and gave away tickets to see Pitbull, Prince Royce, and Farruko at DTE Energy Music Theatre.
In comparison to other clubs around Detroit, El Club is showing an insanely eclectic approach.
The most buzzed-about event at El Club thus far was the first-ever (and possibly last) Trip Metal Fest, on the same weekend as Movement.
Trip Metal Fest was curated by members of Detroit experimental band Wolf Eyes and was free, thanks to private fundraising and a grant from the Knight Foundation. There were performances all weekend long from experimental noise musicians, afterparties, and live discussion events at Trinosophes and Third Man Records. It was a great way for Flegenheimer and the people at El Club to reach out to other clubs and hot spots in the city.
The event caught the eye of The New York Times and was featured in a piece about how Movement and Trip Metal Fest occurred at the same time. Flegenheimer tells us that the event didn't generate a whole lot of extra buzz, but that he's been getting positive responses from the bands on social media.
As far as a Trip Metal Fest part deux is concerned, Flegenheimer isn't totally sure if the event will happen again (we're hoping it does), but he did tell us in an e-mail that it could even turn into a Psycho Jazz Fest (not sure what that means, but we are down like a clown to find out).
The biggest thing that we take away from our visit to El Club is that Flegenheimer and his team aren't trying to be anything that they are not.
El Club wants to make the price of tickets cheap, the drinks cheap, the concertgoers happy, and the artists that are visiting as comfortable as possible. With a plan like that, we have high hopes for its future.
El Club is located at 4114 W. Vernor Hwy., Detroit. For more info, check elclubdetroit.com.