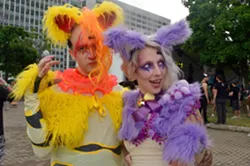 We started at about 3:30 p.m. at Movement on Monday. Detroit natives Stone Owl were playing the main stage. Festival crowds were thin at this point, signaling that it was either too early or too late for most people. One of the dudes in Stone Owl was playing a bass, and there appeared to be three chakra bowls next to the turntables.
We walked over to the Red Bull stage to watch DJ Funk, the Chicago house DJ/producer who is considered one of the founders of the booty or ghettotech subgenre. Although it was early in the day, there were a decent amount of people watching Funk, who still sounds as fast and nasty as ever. At one point he stopped to tell the crowd he was going to play his first hit from over 20 years ago, and that everyone was shorties when it came out.
Detroiter Jared Wilson, who runs the label 7777 and is known for mostly playing acid, was next up at the Underground Stage.
We wandered into the room where you can play with equipment. Most of it had headphones, so you didn't have to hear everyone else dicking around and you could save yourself the embarrassment. Roland had a bunch of new synths to try, Nord and Pioneer as well as Detroit Modular. There were also a couple of guys there using some kind of music equipment to play pong.
2AM/FM cosisting of D'marc Cantu and Tadd Mullinix from Ann Arbor played next on the Underground Stage. Their set seemed kind of all over the place, but not necessarily in a bad way.
Since it still wasn't hugely crowded at the festival we noticed a couple of vendors we hadn't the first day: Citiva Creationz, a vendor's booth selling "handmade flow props and eco-friendly clothing," as well as godsdj.com, who specialize in Christian-themed rave clothing.
Next up was DJ Godfather, the Detroit ghettotech DJ/producer. He had his own hypeman. We stuck around to see Big Freedia, the New Orleans bounce artist. First her DJ came out and started playing music to get the crowd hype and then they played what kind of seemed similar to a wrestling theme song while she walked out. Every song seemed to end with air horn. There were butts everywhere. The butts of her dancers, her butt, butts on the screen butts, butts, butts, butts.
We headed back over to the Underground stage, which I forgot to mention looked like an alien spaceship, to check out Tin Man. On our way over we ran into Grandma Techno.
Tin Man's set was dark and uneasy. Originally from the states, but now based in Vienna, his set was moody and sparse sometimes, but fast and danceable other times. By the time we left, the festival had started to fill up.