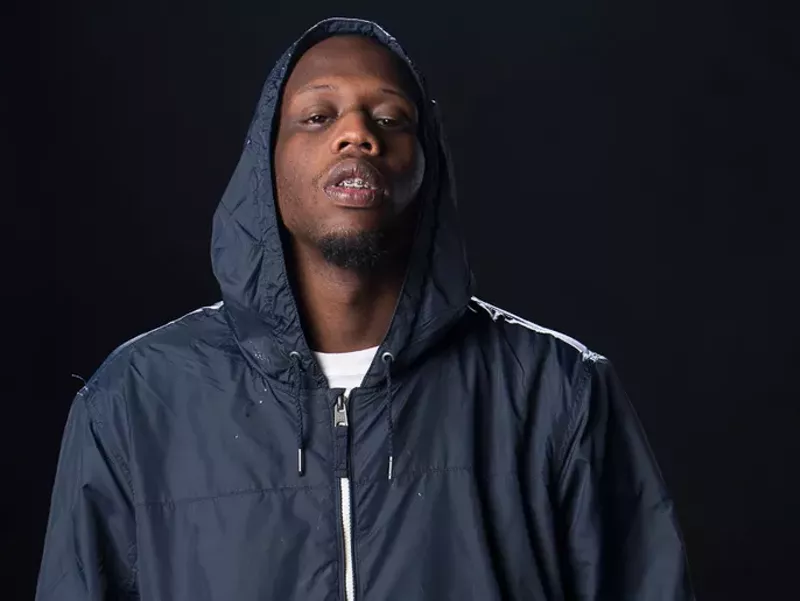 On Monday, Aug. 20, Eastside Snoop of the hip-hop group Team Eastside was shot four times and killed while sitting inside a black Dodge Challenger on Flanders Street in Detroit. He was 28.
Team Eastside (which also includes emcees D. Nice, Babyface Ray, Dam, Lil P., and Lou Dram) has been one of Detroit's most notable hip-hop groups over the last five years. Continuing the tradition of groups Eastside Chedda Boyz, Street Lords, and Doughboyz Cashout, Team Eastside's music and lyrics are drenched in the realities of street life and chasing financial dreams any way possible.
Born Antonio Carter, Eastside Snoop — who also went by the moniker BakinSoda — had his first big solo buzz from the song "Chicken Up" off Atlanta producer TM88's mixtape,
88 World
. "Chicken Up" became a Detroit and Atlanta anthem at bars and gentlemen clubs. Snoop followed up with two more club trap bangers, "Bands Up" and "Trippin." Along with his Team Eastside projects, Snoop has also has dropped guest bars on tracks with IceWear Vezzo, HNIC Pesh, and Green Guy Webbie.
"He rapped about getting money basically," says Team Eastside fan Briana Foster. "Detroit is fucked up and people like Snoop was out here just trying to get money so he could do more with is life."
Eastside Snoop is the second member from Team Eastside to get shot this year. On Feb. 4, Eastside Peezy was shot in Warren during a robbery but has fully recovered. Peezy took to Instagram to express his feelings of the loss of his friend, posting, "They say love nobody cuz love a get you killed my nigga loved Detroit and he ain't here now."
Snoop will be remembered as an artist who was genuinely a good guy that lost his life as his career was ascending. Detroit producer Helluva, who collaborated with Snoop, says via email, "When me and Snoop saw each other, it wasn't just, 'What's up?' It was, 'I miss you brother.' It was more than music, and when I saw him anywhere I knew I was good. I was blessed to have him on one of my favorite beats, 'If You Don't Work You Don't Eat.'
He adds, "That was Snoop and Team Eastside letting the world know they were here to stay."

Stay on top of Detroit news and views. Sign up for our weekly issue newsletter delivered each Wednesday.