Today, on the 35th anniversary of when
Michael Jackson debuted his signature dance move, the moonwalk
on national television, it was announced that the King of Pop will be honored with his very own street in Detroit's theatre district.
During a press conference Thursday, more details of the upcoming
Detroit Music Weekend
were revealed, including the renaming of a stretch of Randolph Street between Madison Street and Gratiot Avenue "Michael Jackson Avenue." The renaming ceremony will take place on Friday, June 15, where the event's headliners, the Jacksons, will be granted a Key to the City.
Last year, divine
Detroit diva Aretha Franklin
gave what could be her last performance and was honored when a portion of Madison Avenue was renamed "Aretha Franklin Way." This year, the Jacksons will experience the royal treatment nearly 50 years after recording their first number one hit,
"I'll Be There,"
at Hitsville U.S.A. on West Grand Blvd.
Tito, Marlon, Jackie, and Jermaine Jackson will perform a free 75-minute set on Saturday, June 16 full of hits, paying homage to brother Michael "through use of revolutionary digital technology."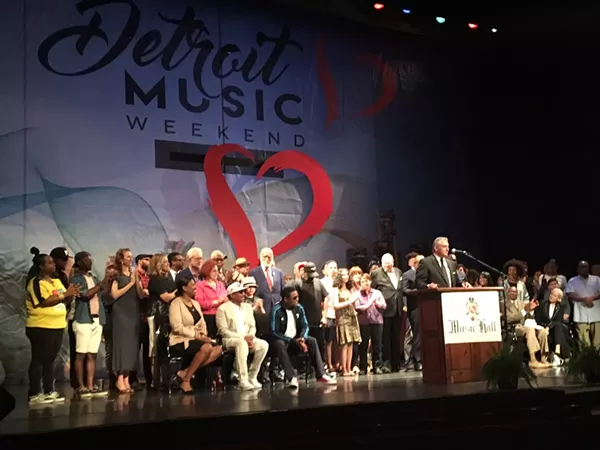 "The mission of Detrot Music Weekend is to articulate the impact that our creativity has on our economy," says Detroit Music Weekend founding director Vince Paul. "By taking our artists in its totality from our Arab community, to our Indian community, to our African-American community, Jewish community, you name in, if you were to take all of our different artists who have achieved acclaim across the world and put them into one giant festival, what you're doing is you're healing the city. You're putting all of our silos into one great Detroit."

"Detroit right now, it's in first gear, and it's looking at that shifter about to go into the second gear," he says. "We think that the artists and our music are what's going to take us into that second gear."

Detroit Music Weekend will take place Thursday, June 14 through Sunday, June 17. In addition to the star-powered lineup, DMW announced that it is growing in size. There are now five stages, including a new DIME (Detroit Institute of Music Education) Stage. The footprint for the event will now extend from Music Hall to Capitol Park. The event is also set to feature more than 100 restaurants and vendors, which
Paul describes it as "the largest single-day shopping mall of Detroit stuff that you will find anywhere on the calendar."
New talent showcases and an EDM afterparty are on the roster along with performances by
Mark Farner of Grand Funk Railroad
and singer, songwriter, and actor
Jeff Daniels
, who will take to the stage along with over 400 other performers.
More information about
Detroit
Music Weekend is available
here
.
Stay on top of Detroit news and views. Sign up for our weekly issue newsletter delivered each Wednesday.