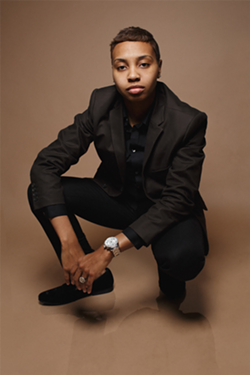 Moses The God is a Detroit-born emcee that has carved out a name for herself with rhymes about relationships, ego, and emotions — along with a super swagged-out persona.
Metro Times
caught up with the emcee to discuss her current album
With or Without You
, musical influences, and future endeavors.
Metro Times:
The name, Moses The God — that's a pretty strong name. Where did that come from?
Moses The God:
First, my name was Michigan Moses. Then I dropped the "Michigan" because I felt like I was limiting myself. So, I was Moses when I dropped
Red Letters
which is the album that got me the name. People were saying my music was great. They would say "You a God, you Moses the God," so I pretty much ran with it.
MT:
How long have you been doing music now? What's your musical background?
Moses The God:
I've been doing music professionally for four years now. I don't really have a musical or hip-hop background, I really just grew up listening to Jay-Z, Eminem, Missy Elliott, Timbaland, Aaliyah, DMX, Nelly, Kanye West, T.I., Jadakiss, Fabolous, 50 Cent, Justin Timberlake, and Beyoncé. I could go on and on. Their music pretty much shaped and inspired me and gave me an idea of what I wanted to be, what I wanted to sound like, how I want to move on stage, and how I want people to perceive me.
MT:
Who are your musical influences?
Moses The God:
My musical influences are pretty much everyone I named above but I also influence myself because I always want to see how I can out do myself. Everything that I do is a product of my progress. I would be lying if I said that music I particularly don't care for hasn't influenced me. I look at certain music and say, "OK, that's what I definitely don't want to sound like," or, "Hey, I see this works" or, "This would work right now" or, "What do the people need at the moment." So, I guess unconsciously I gear or construct my music around those things. Naturally everyone gets influenced by music — it's a culture, you know. Music is a way of life; it's like your heartbeat.
MT:
Your first album,
Red Letters
and your
The Commandments Vol. 1
mixtape were both solid. How have you grown since those two releases?
Moses The God:
Definitely, every last one of my projects sounds totally different, so you automatically hear progression throughout my works of art. Now it's a whole different vibe. I think I may have combined all three of my projects in my sound, plus more. I'm definitely, finding myself and my sound. I'm doing the music I always wanted to do. I can't and don't want to force it. That's why my earlier projects are completely different. I made each one in completely different times of my life. Now I don't stress about the same things so I believe that's what pushed me to be who I really want to be musically and personally.
MT:
How would you describe your sound?
Moses The God:
I actually asked myself this question earlier this week. I think of it as describing the greatest thing you've ever tasted or heard. You really can't describe it. The first thing you would do is start comparing it to a million other things that ultimately don't amount to it. I'm different. I have a distinct voice and sound. I would consider myself to be in my own lane.
MT:
Your singles, "Used To" and "Good Love" have new-school R&B vibes to them in which you're exploring relationship themes. Do these come from personal experiences?
Moses The God:
All of my music is real. This album took me two years to complete. I went through lots of ups and downs between my past two relationships. In my longest relationship it got to a point where I felt like I didn't have that unconditional support system. I really felt like I was out here alone. That's where the title of the album ultimately came from —
With or Without You
. When it came to the song, "Used To," the lyrics are factual and portray how I felt at the moment.
When it came to writing "Good Love," that was how my most recent ex made me feel. I was continuously losing jobs, didn't have any money, just bought my first house, and I was just going through it. Through all of it she always made me feel like everything was all good — I really do kiss her three times in a row. All of my music portrays my experiences at the time.
MT:
As a lesbian, you do a great job crafting your songs in a way that anyone can relate too. Is this by design?
Moses The God:
My music derives from personal experiences. I'm not going through anything out of the ordinary in my relationships. Everyone has fun. Everyone may have cheated or may have been cheated on. Guns may have been drawn once, people have differences then make up. It just so happens that when I put my thoughts on wax that I turn it into art that people can enjoy and relate to.
MT:
What can listeners expect from
With or Without You
?
Moses The God:
More videos, good vibes, amazing shows and fly merchandise. This will be a classic album for the city. I want them to embrace it with open arms because once I knock down the door, I'm taking off.
MT:
How do you feel about the current Detroit hip-hop and music scene?
Moses The God:
I think that the current Detroit hip-hop scene is well and alive. Everyone is making good music whether it be hip-hop or R&B. Detroit music is also making waves on a national level because it's a style that many people have never heard of, but they like it. It feels good to know that many people all over the country are enjoying the Detroit style because it's so authentic.
MT:
What else is in your future? What do you hope to accomplish?
Moses The God:
I see platinum plaques, great collaborations with other dope artists, Grammys and I see more celebrations of my accomplishments. I'm simple and all I want to do is create dope music that shifts the world and not have to worry about the same things I've been dealing with year after year. I'm working toward a day where I can stand on my dope decked-out balcony, overlooking whatever city I'm in and take a deep breath and say, "I did it while my mom is still breathing."
Learn more about Moses the God on her website.