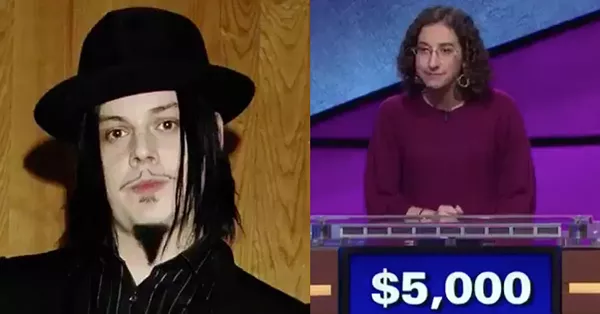 Detroit was represented on last night's
Jeopardy!
Under the category of "Vinyl Resting Place" for $1,200, host Alex Trebek offered the following clue: "A recent vinyl resurgence has been aided by this musician, who built a pressing plant in his Detroit hometown."
He also showed a photo of
Get Behind Me Satan
-era Jack White. The answer, of course, was Jack White.
That's when a contestant named Julie buzzed and guessed, "Who is Eminem?" This, of course, is wrong. That was not a photo of Eminem. It was a photo of Jack White.
Now, in Julie's defense, the photo was from the mid-early 2000s, when Jack White looked his rap-rockingest, sporting a fedora, goatee, soul patch,
and
pencil mustache. And yeah, both Jack White and Eminem are white dudes from Detroit, and Eminem was even recently in the news for
his facial hair choices
. However, the fact remains: the correct answer was Jack White, not Eminem.
As a reminder for Julie, this is what Eminem looks like:
White's latest single, "Connected by Love" backed with the electronic-infused "Respect Commander,"
was released earlier this week
. It's available on limited edition colored vinyl from White's aforementioned Detroit pressing plant on Saturday at Third Man Records Cass Corridor.
Enjoy the hilariously incorrect clip below.
Who is Eminem? pic.twitter.com/sPnkFkk0tL

— Quigs (@BigSeanQ) January 12, 2018