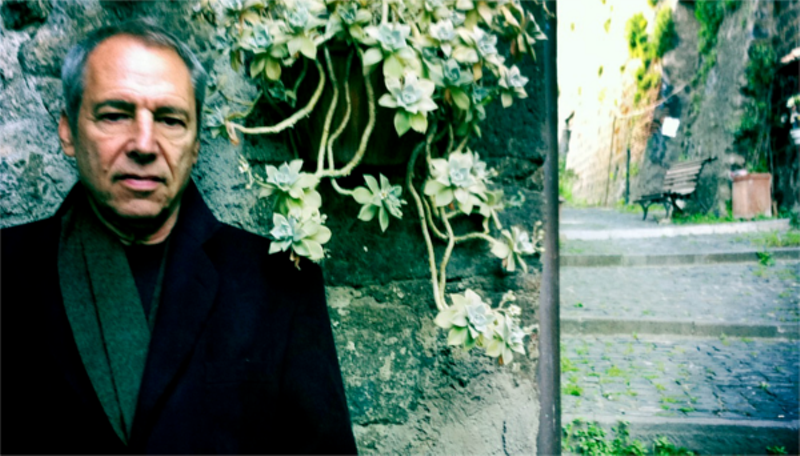 Ben Sidran is a jazzman's jazzman, a keysman and vocalist with a cool and easygoing style, given to interspersing his vocals with talking. Which makes sense, considering the performer has a Ph.D. and a penchant for a
good-natured lecture
or two,
sometimes during the music itself
. Or he might reel off his knowledge with
a song naming all the great jazz pianists
– one that really swings.
What's more, he comes with a sturdy rock pedigree (he has played with Boz Scaggs and Steve Miller since the 1960s), and
a strong R&B sensibility that can veer toward funk
, which seems tailor-made for a Detroit audience. It's no coincidence Sidran's songs were in heavy rotation on WJZZ back in the day.
Back then, he was sort of a Midwestern boy gone East Coast cool cat, and older jazz fans may instantly recognize Sidran as the NPR host who chatted with more than 100 jazzers on-air in the early 1980s. These days he makes his home in Madison, Wis., busy as ever, and sounds just as likely to be working on a book or teaching a course as playing a gig.
Next week, he comes to Detroit for his first club appearance, heading up a quintet that's been tight for decades, including guitarist Billy Peterson of Steve Miller Band fame, Bob Rockwell on sax, and Sidran's son Leo on drums. Sidran spoke to us from Minneapolis before his gig at the Dakota last night, and we had a wide-ranging discussion that encompassed music, philosophy, and even Jewish influences on pop music.
MT:
You're often compared to Mose Allison. I thought that was apt, especially because there's humor in both your work. Or does that make sense?
Sidran:
Yeah, definitely. I think there's a lot of humor in Mose's music. A lot of people think of Mose as being "dark" or whatever, but I don't. I think he's funny. And the same goes with my stuff, especially my recent stuff,
Picture Him Happy
and all that. In some ways it's the antithesis to dark. It's reason to hope! [laughs] And I think that's what Mose did too. The other element I've got in my music that really was not part of Mose's is that I've played a lot of rhythm and blues, so that kind of dance groove is real important to me. So a lot of my stuff has dance grooves.
MT:
There's also an effortless quality. At some point, doesn't it make what you do look too easy? Do people think you're just getting up there, almost like stand-up, and doing observational humor while a band plays?
Sidran:
[laughs] Sure. I'll live with that. That's great. If it looks easy, then I'm doing my job, you know? You're never supposed to let people see the work. I know a lot of jazz is thought of as super-abstract and hard-to-understand, but I come from a different tradition. If I'm making it look easy, that's good. It's not easy, believe me. I still practice every day.
MT:
In 1967, you played with the Steve Miller Band. How did that happen?
Sidran:
Steve and Boz Scaggs and I had a band together when we were in college at the University of Wisconsin in the mid-1960s. Then I went to graduate school in England, at Sussex University, and Steve and Boz came over to England to make their first record, called
Children of the Future
. And because I was living there I wound up writing some of the songs and playing on the record with them. And I've made a bunch of records with Steve since, and produced a few for him.
MT:
Right, you have this other career as a producer. You've produced so many artists – Michael Franks, Richie Cole, Diana Ross, and of course Mose Allison. I was particularly interested that you worked with Rickie Lee Jones.
Sidran:
Yeah, Rickie Lee Jones wanted to make a jazz record, and I was recommended to her as a producer for that project. I did half of the record. She did the other half in L.A. and I did the New York half. And I put together a real classic jazz group with Buddy Montgomery, this great piano player, and Richard Davis, the bass player. I think John Pizzarelli actually played guitar on it. And she was inspired.
MT:
Whose idea was it to do "Show Biz Kids"?
Sidran:
[laughs] That was her idea. She wanted to do it. It was a great call on her part. I love that song.
MT:
Boy, you talk about that mix of humor and dark observations. There it is again. That's Steely Dan territory.
Sidran:
Absolutely. And her voice sounds wonderful on that song. A lot of, I think, Rickie's strength is simply in the sound of what she delivers. Her sound is so classic and so dramatic. If she can find a vehicle for that, she can't miss.
MT:
And we haven't even touched on your career as a radio host. Can you talk about that a bit?
Sidran:
In 1981, I started working at National Public Radio in Washington, D.C. There was a program called
Jazz Alive
. Billy Taylor, the great piano player, used to host it, and he was leaving, and they were looking for a new host for the show and I think because Billy Taylor had a Ph.D., they wanted somebody else who had a Ph.D. to follow up. Being a jazz piano player with a Ph.D., I was considered for the job. My first night on the air was New Year's Eve 1981 we did a live broadcast across the country. I was in New York, Billy Taylor was in Chicago, somebody else was in Denver, somebody else was in San Francisco, I think. We had a lot of fun. It was live, four time zones, New Year's Eve, one after the other. I was in New York with the Brecker Brothers, and I was friends with those guys, so we just had a great time. And after that New Year's Eve show, they offered me the job, and I stayed at Public Radio, commuting to Washington for three years. Then for the next five years I did an interview show called
Sidran on Record
, that I produced out of Madison, Wis. So I was on public radio for almost the entire '80s.
MT:
And then a book comes out of that, right?
Sidran:
Yeah.
Talking Jazz
, right. A book and also a collection of 26 CDs with the conversations with all those guys. Matter of fact, now, you can get it at bensidran.com or a Kindle edition at Amazon of all 110 conversations in two volumes, all those musicians' talks, with Miles, Sonny Rollins, Blakey, Wynton, everybody.
MT:
And that's not the only book you've done. There's a book about Jewish influences on popular music?
Sidran:
The book is called
There Was a Fire: Jews, Music, and the American Dream
, and it's the history of American popular music from Irving Berlin to the Beastie Boys, as seen by the contributions of Jewish songwriters and composers and executives and promoters and writers. It's about the Jewish influence on culture, music specifically.
MT:
I heard it's the only book of its kind.
Sidran:
Well, it is the only complete history. There are books about Jewish songwriters, there are books about Jews on Broadway, there are books on Jews in the business, as such. It came about because I taught a course at the University of Wisconsin and … there wasn't a text! I realized I was taking readings from all different sources for the students. So when I finished teaching the course, I wound up putting this together. It's the only textbook that looks at the whole history of American popular music.
MT:
In your research, did you find anything that surprised you?
Sidran:
Well, a lot of the book has to do with the relationship of Jews and African-Americans, historically. There are interesting interactions. For example, not a lot of people know that Louis Armstrong really got his musical start from a Jewish family in New Orleans, the Karnofsky family. Or that Billie Holiday's famous song, "Strange Fruit," was written by a Jewish schoolteacher and produced by a Jewish record producer. So there's a lot of interactions there and a lot of history that wasn't known, the number of people involved in creating what we know of as the popular music business. You know, the Jews have never been more than 2 percent of the population of the United States, but they really were almost 80 percent of the popular music universe.
MT:
Why is that?
Sidran:
Well, I think it has to do with the fact that there's been discrimination. Jews weren't allowed in a lot of businesses. They weren't allowed to enroll in a lot of universities. And so they went where they had the opportunity. And also the Jews historically identified with black culture. First of all, the first ghettos that ever existed were Jewish ghettos. Second of all, the Jews, when they got to the United States, had a history of coming from pogroms. And they came here and they saw what was happening to the blacks in America and they referred to those as pogroms, so it was a very strong connection.
MT:
We should talk a little about your new album.
Picture Him Happy
is a reference to Sisyphus, but is Sisyphus really supposed to be happy?
Sidran:
Well, that's exactly what Albert Camus, the existentialist philosopher, said. He wrote this famous essay on the myth of Sisyphus, and it concerns a question that's abstract but also practical. The image of a man pushing a rock up a hill is a good metaphor for modern life. He never gets to the top, and that's a metaphor for all of our lives, where we spend our lives trying to accomplish something, and we never really get 100 percent of what we're going for. Camus, like all existentialists, had a good sense of the absurd. And he's the one who came up with the line that said, "If you really want to understand the profundity of Sisyphus, you have to imagine that he's happy doing what he's doing." That even though he doesn't get to the top, he's happy to be here and to struggle in the sun with this rock. And it reminded me of something the great jazz saxophone player Johnny Griffin once said: "Jazz is music made by and for people who've chosen to be happy in spite of conditions." And it's really struck me as apropos to today. The conditions today are just as awful as they've ever been. The discourse is rude and crude, and the government and politicians are rude and crude, and … how are we supposed to be happy in the midst of all this? Well, you know, that's the job. So I took that as a sign of being in the right place at the right time in making that records.
MT:
Talk about timing!
Sidran:
Yeah, well, that's what jazz is supposed to be: The music of today.
MT:
You still keep putting your shoulder up against that boulder?
Sidran:
Yeah, that's what we do. You wake up in the morning and you get on the rock and you start pushing, man. That's the job.
MT
: And all this time I thought Sisyphus was grumbling and swearing.
Sidran:
Yeah, I know. You'd think so, wouldn't you? He's whistling. [laughs]

Ben Sidran and band appear at 8 p.m. Wednesday, Aug. 23, at Cliff Bell's, 2030 Park Ave., Detroit; 313-961-2543; tickets $20.