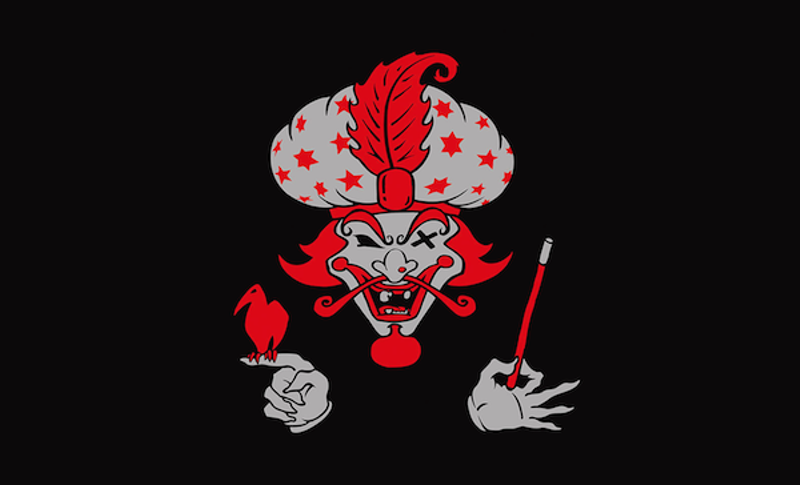 Good news, family: The LP from ICP
that Disney yanked from shelves
, sold to Island Records, and then went platinum anyway is going to have a lavish 20-year-anniversary reissue. Psychopathic Records spokespeople say
the reissue of The Great Milenko will come out Sept. 1 on Island/UMe records
.
Juggalos can expect an "expanded 2CD/DVD and digital audio edition" that "revisits the controversy and outcries that took the Posse from cult Midwest rap act to worldwide music sensation and the poster children for music censorship near the turn of the millennium."
At the risk of sounding like one of those old TV commercials ("But wait: There's more!"), the fully 2017-remastered version of the Platinum-selling album features guest appearances from such notables as Slash, Steve Jones of Sex Pistols fame, and Alice Cooper and underground hip-hop classics such as "Halls of Illusions," "The Neden Game," "Piggy Pie," and "How Many Times?"
But, hey, there
is
more. A bonus disc of bonus songs personally supervised by ICP co-founder Violent J, featuring never-before-released
Milenko
outtakes as well as a brand new ICP track, "Black Blizzard." Plus those buying the package will also get a DVD of the long out-of-print 1997 documentary about the Juggalo subculture,
Shockumentary.
Not only is it available now for preorder, you could have it in your hot little hands in time to use as your road-trip soundtrack while you drive out to this September's
Juggalo March on Washington
. Can't make that scene? No problem. Insane Clown Posse is also planning a large tour in support of this special commemorative edition of hip-hop history.
Any way you cut it, it's three heaping slabs of whoop-whooping clown love that promises to keep you holding your hatchet high.