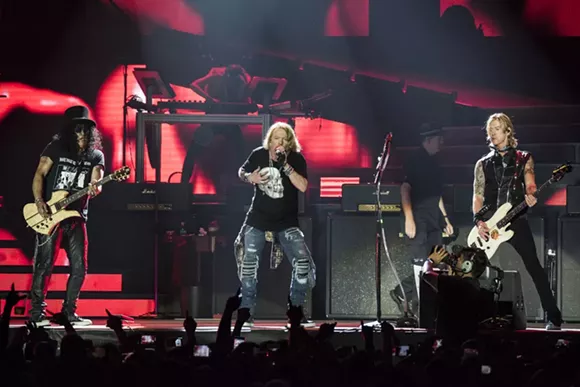 There must have been a frost advisory in hell on Thursday, because Axl Rose was onstage at Ford Field by 9:43 p.m. for night No. 1 of the Guns N' Roses reunion tour.


There were moments — when Axl was charging with the mic stand, or doing the snake dance with Slash shredding nearby — that found the group in the same pocket that made them electrifying the first time around.

See all our photos from Guns N' Roses here.


It's a partial regroup of the Appetite for Destruction lineup — Axl, Slash, and Duff McKagan are in, and Izzy Stradlin and Steven Adler are out — but the strength of Guns N' Roses' performance in the Motor City signifies that this reunion is going to rock.

That wasn't clear from song one. After kicking off with "It's So Easy," Axl's vocals during "Mr. Brownstone" threatened to let down 23 years of expectations, as the 54-year-old singer visibly gasped for air. But he warmed up after a few songs, hitting convincing high notes and transforming into his vintage stage persona, with mirror shades, a hat, and plaid shirt tied around his waist. By the time he dove into "Estranged," Axl looked and sounded like he was having fun.

Ford Field appeared to be a complete sellout. "They look like bike people," my Uber driver said of the throngs of 40-something men in "Appetite" T-shirts lined up outside.

The sound was big, loud, and clear on Thursday, although Axl's vocals could have been higher in the mix at times.


It was all the more appreciated coming off of warm-up gigs in Las Vegas in April, where Axl performed sitting down with a broken foot. There was no sign of injury Thursday, with the singer jumping on monitors and working the stage. Toward the end of the gig, he restated the obvious and donned a shirt that read: "The bitch is back."


Opener Alice in Chains ripped through "Check My Brain," "Rooster," "Man in the Box," and other favorites. Guitarist Jerry Cantrell slipped in a sublime Lions dig, telling the crowd he last visited Ford Field with McKagan "and watched the Seahawks get robbed of a Super Bowl by the fucking Steelers." He paused and said: "At least we got to see a Super Bowl."


The "Not in This Lifetime…" tour is true arena rock, and has the most pyrotechnics we've seen in years. There were enough explosions at Ford Field on Thursday to make Quicken Loans employees downtown strap ThunderShirts on their beagles.


Slash is one of the great living rock guitarists, and he commands attention, whether it's during a solo at stage left or one of the night's peaks, a mean "Civil War" that saw him working on a double neck and Axl achieving vocal heroics. It's a rock 'n' roll privilege to hear Slash solo on a succession of gorgeous Gibsons and see his fast finger work on the big screen at Ford Field.


McKagan showed in a "Detroit: Where the weak are killed and eaten" shirt and with Prince's love symbol added to his guitar. Apart from his bass lines, McKagan also brings back a key element of the Guns N' Roses sound with his return to the band — his backing vocals.


"Rocket Queen," "You Could Be Mine," and "Civil War" drove the midsection of the setlist. After "Out Ta Get Me," Slash and guitarist Richard Fortus slipped into a jam, trading leads on an instrumental that began as Pink Floyd's "Wish You Were Here."


Axl took to the piano at the front and center of the stage for "November Rain," which many in the audience were screaming for all night, and then ripped through "Night Train," bouncing on stage left in the same position as a goat preparing to mate.


After a shower of confetti and fireworks, the boys from L.A. closed with The Who's "The Seeker," then "Paradise City," a satisfied audience, and gunpowder in the air.