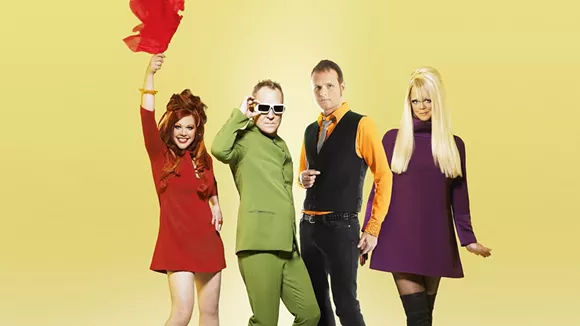 The
10th Annual GM River Days festival
is soon upon us, as it runs from June 24-26. As corporate-sponsored events go, this one casts a particularly wide net. The event seems very interested in trying to please the entire family. Local
Voice
finalist Laith Al-Saadi is performing, as are the B-52s, Patti LaBelle, Jeffrey Osborne, Mint Condition — all the genres are covered here with dozens of acts in total. In addition, there are yoga classes, a Tuskegee air show, the opportunity to watch professionals race on Jet-Skis, and for you to shoot down on a Zipline ride (for an additional $15), all on the RiverFront!
The Detroit Riverfront Conservancy announced the lineup this week, and there are nearly 50 local and national musicians playing the GM River Days festival. Limited VIP tickets are also available for $35, which grant you close seating, free non-alcoholic beverages, admission to every stage, and access to a cash bar. What's cool is that all the proceeds from VIP tickets go toward the non-profit Detroit RiverFront Conservancy. General admission is $3. Children ages 3 and under, as well as seniors over the age of 65, are not required to pay an admission fee. After 3 p.m., admission is $5. The Conservancy is offering a "Free Friday" promotion where admission is free from 11 a.m.-5 p.m. on Friday, June 24. People who show up during that time will be allowed to stay into the evening, too.
As is typical these days, you've got a Quicken Loans National Stage, a Michigan Lottery Stage, and a Chevrolet Stage — but if corporate branding is all it takes to see some great local and non-local acts, who are we to argue?
The free kid-friendly stages and events include some arts and crafts and educational entertainment at the Flagstar Bank Kids Zone, as well as a Meijer Kids Stage. You can also combine your love of music and yoga at the "Yoga on the River" class, hosted by Detroit Bikram, for a $5 donation. Get a good stretch in at 9:30 a.m. on Saturday, June 25 before enjoying some great tunes and scenery for the rest of the day.
Some of the best pilots in the country will make a splash during the USA Jet-Ski Freestyle Championships, and then you can turn your eyes to the sky for an airshow by the Tuskegee Airmen.